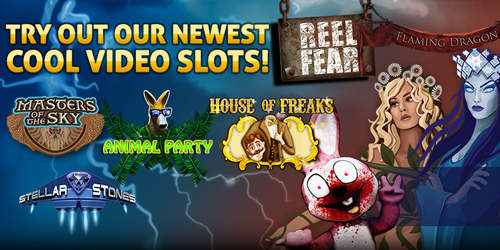 This time, the renowned Bitcoin casino gaming platform expands their vast choice of slot machines and casino classics by 6 more multi-themed games.
As you start discovering them one by one, you may spin the reels first in 'Stellar Stones' looking for extraterrestrial precious stones, including the ones Earth have never seen before.
Then, as you come back to our planet, you may want to terrify yourself and experience the real thrill playing the blood-chilling 'Reel Fear' slot with enormous insects, phantoms, and zombie nurses being after you!
After that, expect to be carried into the world of castles, dungeons, treasure chests, and legendary creatures as your start playing the magical 'Flaming Dragon' where symbols will pay both left-to-right and right-to-left!
And yes, there are three more immense slot machines that you also need to try to make your wagering experience of BitCasino.io even more complete, and these are 'Animal Party', 'Masters of the Sky', and a kind-of-itself 'House of Freaks'!
Still not sure if you like these games or not? Worry not, as here on BitCasino.io you will be able to find hundreds of other spectacular and beneficial slot machines and classical casino games within seconds!