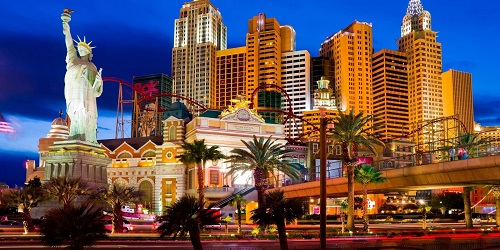 The anxiety-causing hi-tech cryptocurrency is conquering the City of Lights, and everything about it points to the fact it's going to stay there for long.
Interestingly, BTC seems to have intentionally been created to cater the needs of America's, and, in actual fact, world's gambling and amusement capital. Within just a couple of years after the digital currency received wider acceptance globally, people visiting Las Vegas more frequently decide in favor of Bitcoin when paying for various kinds of entertainment and services available in the city: from exchanging BTC for casino chips and buying food at restaurants to renting cars, hotel rooms, and paying for party tickets.
The main reason behind the cryptocurrency getting so increasingly popular is the desire of business owners and operators to create a more friendly environment for Bitcoin payers in the city. All thanks to over a dozen Bitcoin ATMs located all over Vegas, including a couple of two-way ones, customers get a chance to make many of their dreams and wishes come true, with minimal involvement of real-money payments. World-class show-business and sports stars like Mike Tyson are reported to officially take a hand in presenting their signature BTC machines in Las Vegas, meaning the city's authorities and entrepreneurs have their game face on making Bitcoin payments widely available.
The case is the same with Vegas' land-based casinos and other entertainment/catering facilities. Those of them that have been able to introduce BTC payments for their customers, like D Las Vegas Casino Hotel and Golden Gate Hotel & Casino, both operated by Mr. Derek Stevens, are now seeing a substantial increase in profits. Aside from it, influenced by the demand increase, the range of new enterprises and venue offering payments in bitcoins to their clients grows rapidly month to month, as it's only logical, as businesses try to create convenient monetary conditions for vacationers who wanted to spend their bitcoins in Vegas one way or another.
With possibilities for virtual gamblers to receive their winnings in BTC being more than massive these days, there is hardly anything surprising in the determination of the government and decision-makers of the U.S. principal entertainment stronghold to try and cajole some of these virtual money from them. Indeed, according to the majority of experts, the wellbeing of the global online gambling industry has a good effect on the prosperity of brick-and-mortar casinos. Overall, the rising popularity of BTC in Vegas also owes in many to its availability as a payment method in other, more family-leisure-oriented kinds of entertainment that are not related to casino gaming. Booking tours and trips, purchasing food, goods, precious metals, and popular event tickets, or even pay for joyrides, car maintenance, and lots of other things, including paying for legal services – you can use your bitcoins to have it all already now.