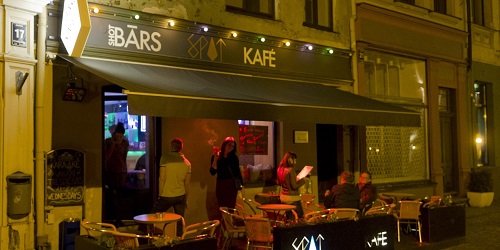 Located in the heart of Riga's old town, "SPOT Kafe" is famous for its incredible shots, as well as for being the very first cafe in Latvia to accept BTC payments.
As practice shows, in recent months bitcoins have grown very popular in Riga – the capital city of the Baltic state Latvia and a true tourist magnet. In summer 2014, Latvian national air carrier airBaltic announced their customers could pay for tickets in Bitcoin; airBaltic was later joined by a hostel in Riga popular among abroad tourists and backpackers. Latvian entrepreneurs have decided to take a closer look at the enigmatic Bitcoin, because this payment method is popular with tourists and overseas customers.
For locals, however, this cryptocurrency remains somewhat unknown. Artyom Kushik, the owner of "SPOT Kafe", says he learned about Bitcoin back in 2010. According to Artyom who holds a degree in finance, the Bitcoin system in Latvia is still in its infancy stage: many residents of Latvia have heard of it, but most of them never used it. As for the popularity of Bitcoin payments in "SPOT Kafe", so far three customers paid for their orders in BTC to the amount of 10 euros.
The shot-bar uses Coinbase services to accept BTC payments.