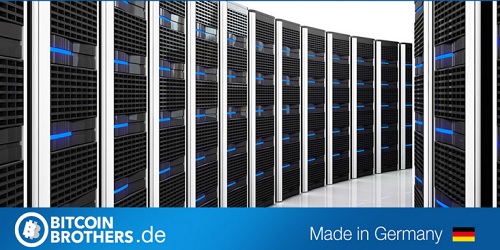 After 2 years of silence, BTC mining equipment supplier Bitcoin Brothers is back on the track with super-powerful hardware claimed to be the most efficient ever.
Mining is the process of confirming/adding records of new Bitcoin transactions into block chain – the distributed public ledger of all transactions ever performed. New bitcoins appear as a result of the mining process. Miner gets 25 bitcoins per every successful confirmation of a consecutive transaction block. Although it may seem conceptually simple, the process of confirming transactions becomes more complex as the block chain increases. What is worse, Bitcoin rate drop reduces the income of miners who still need to buy expensive devices, specially designed for mining, and install them in remote areas.
Now, thanks to Bitcoin Brothers' new services, instead of buying their own equipment miners will be able to use the most advanced and efficient BTC mining technologies – at least, that's what the company says.
The Berlin-based Bitcoin Brothers, founded by former German military cryptologist Mark Welle and his brother Maik (sic!), offer BTC mining services on their specialized ASIC-servers (which they call mining supercomputers) with a capacity of more than 6 PH (petahashes). Having invested the money earned on mining at the dawn of Bitcoin into the development of their company, Welle brothers put hand to the production of their own 16-nm FinFET 3D ASIC chips in cooperation with the Taiwanese semiconductor manufacturer TSMC. ASICs are compact high-performance integrated circuits designed to solve specific tasks. Bitcoin Brothers may not be the first company to come to cloud mining market, but they claim their solution outperforms all others.
BTC mining equipment suppliers gradually abandon the market: KNC Miner decided to focus on the development of their own mining data-centers, and Butterfly Labs is at risk of being shut down by the Federal Trade Commission for allegedly mining BTCs using customer-purchased equipment prior to shipment.
Bitcoin Brothers aren't the first to appeal to technological innovations with a view to reduce the cost of mining. Earlier this year, another German company ASICrising Gmbh, now known as CoinBau, has been claimed to develop an ASIC which enables miners to halve BTC mining energy consumption. The chip called Wolfblood Extreme Efficiency requires only 0.19 joules of energy per one billion hashes (a gigahash or GH), whereas the current standard is 0.376 joules per GH.