JetX Crash Game Review
Playing fast-paced crash games is a new and increasingly popular trend in the online gambling market. As a result, it's not easy to find a notable digital casino that doesn't have such arcade-style games in its portfolio. One of the most sought-after death-game titles is, of course, JetX casino game, a wonderful creation of the widely acclaimed software provider Smartsoft Gaming, which was released in January 2019. Since then, the popularity of this crash title has been constantly growing, both among novice gamblers and veteran players.
JetX Crash Game Rules
One of the significant advantages of all crash games is dynamic gameplay and simple game rules, and JetX slot is no exception. Its rules are very straightforward, and you only need a few minutes to understand them.
The gameplay is based on an airplane flight. A jet aircraft takes off for each new round and gradually regains altitude, then flies out of the atmosphere into deep space and moves away from the Earth. The starting point is equal to a 1.0 multiplier. Players can cash out at any moment of a round. However, the longer the jet's flight, the higher the multiplier is. But the plane can explode anytime, and all bets will be lost. So your goal is to cash out exactly before the explosion, taking the highest possible winnings from the game round. The bet amount varies from 0.1 to 600 EUR or USD.  
However, you can try JetX free game in demo mode before starting to play for real money.    
JetX Smartsoft betting options
The JetX, like any other arcade-style game, has simple rules. However, it features several bet options, making your game time diverse and exciting.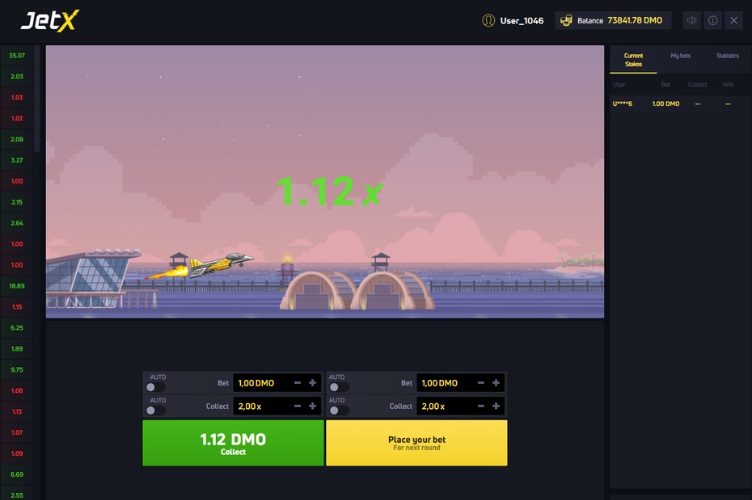 In particular, before each new round, players can make a single stake or two simultaneous bets. Furthermore, you can set a multiplier cap for each bet and activate an auto cash-out when the plane reaches a certain point.  This option is beneficial when you try your skills in double betting. For example, you can set an out payout for your bet with a low multiplier and try to predict the moment before the plane blows with your second bet that you cash out manually. 
Also, when playing in auto-bet mode, you can check the statistics available on the right side of the game screen. Or you can chat with other players and learn more about winning strategies, JetX crash game tricks, etc. The chat icon is located at the bottom right of the screen.
Winning Methods and JetX Strategy
Some casino-winning strategies can be applied to playing JetX, but there are also some unique JetX game tricks. Below we will consider the two most popular ones.
Two-bet strategy with medium and high risks
This approach is for double betting. Specifically, you make a bigger bet with a low or medium-risk multiplier (from 1.2 to 1.7 odds) while setting a high-risk multiplier for a smaller stake. This way, your bigger bet ensures losses if the riskier stake is lost. However, the average JetX game RTP is 97%. This means that in 3 out of 100 rounds, the plane explodes at the very beginning of the flight, burning out all bets. 
Martingale JetX winning strategy
The Martingale system is one of the most popular strategies gamblers use for playing various casino games, and it works for the JetX casino game. The idea is straightforward: you set a bet amount and choose a multiplier (typically 1.5 to 2.0) for your game session.    
Then you make a bet. If you lose, you double your bet, keeping the multiplier level. Thus, you double your bet until you win. After each winning round, you return to the initial bet amount. In theory, such an approach helps to offset losses and to gain some profit. But in practice, doubling bets can lead to the loss of an entire bankroll while you are waiting for your lucky flight. 
You can also use the D'Alembert System, the Laubochere method, and other classic casino-winning strategies for playing the JetX game. Some players even combine classic systems with double betting. However, no approach will guarantee you 100% success. Therefore, the best way not to go bust is to control your bankroll and remember that the casino will always have the edge.  
FAQ
What is JetX game?
JetX is an excellent representative of the arcade-style crash game family. It was created by the well-known iGaming software provider Smartsoft Gaming. Its gameplay is based on the jack aircraft flight outcome. The longer the flight, the higher the winning multiplier. 
Is JetX legit?
Yes, it is. The JetX game is a certified game product created by Smartsoft Gaming, a reputable game developer that legally operates under three valid licenses, including the one issued by the credible Malta Gaming Authority.  
How to play JetX?
The JetX game rules are very straightforward. Before a new round, you make a single bet or two simultaneous bets. Then, the jet aircraft starts flying with a 1.0 multiplier. With each second of flight, the multiplier grows, increasing your possible winnings. You can cash out at any time. However, the longer you are in the game, the more money you can win. But no one knows when the plane explodes, burning all bets. 
How to win JetX?
All JetX game outcomes are randomly generated. As a result, all your winning chances depend on your luck and nothing else. However, some seasoned players use various JetX game tricks and winning strategies, such as Martingale, D'Alambert, etc., to boast their winning odds. Still, none of such methods can ensure winning.