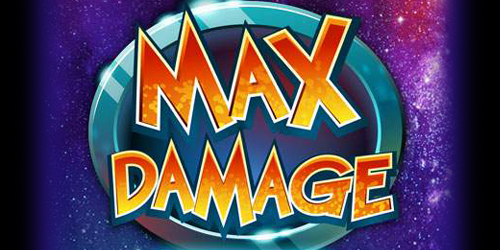 Are you brave and quick enough? Get your immense Bitcoin reward for saving the Universe from space invaders-like creatures attacking it!
What we've got from Microgaming this time is a must-play arcade slot game that is slightly different from what you've probably got used to! In 'Max Damage Multiplayer', you don't get any traditional reels or ways-to-win, because it's designed as an old-school 2D cosmic shooter game. Its graphics are, however modern, meaning it will become a genuine visual delight for you, too!
Instantly after you start playing the slot, you will get six lives to devote to the unblighted future of our galaxy. Apart from it, there will be plentiful possibilities for you to increase your vital points as you play, which means you don't have to worry about losing too many of the lives given to you initially. As you may have guessed already by the game's name, multiplayer gameplay is an option in 'Max Damage', with your mates or family absolutely welcome to join you!
In total, the slot features nine game levels, with your primary aim in each of them being gunning down the invaders' ships approaching you at random. Logically, the higher your current level is the more complicated it will be to defeat them. In case you deal with the aliens in each level successfully, a nice reward is expecting you, as the prizes grow bigger with each level too, with the most generous prize to be assigned to you after you terminate the game's boss.
There is a set of unique features in 'Max Damage Multiplayer', like Wild Symbols stacking on the reels during in the Base Game mode. Also, if you happen to land 3 to 5 scatters when spinning the reels, you may get up to 15 free-spins as an extra reward, with most of your wins doubled subsequently!