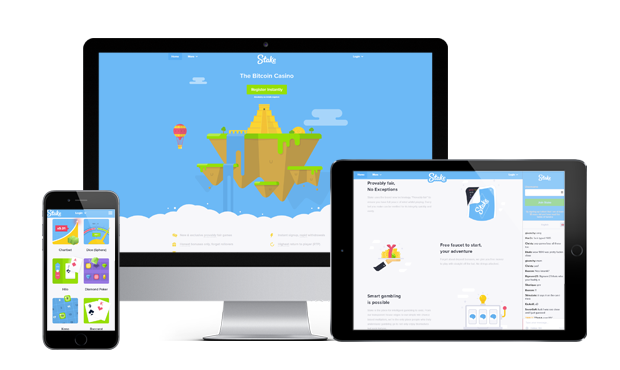 Stake casino, the online casino with an unbiased software, which helps you validate the transparency and fairness of every games outcome; also they have an interface that is off the charts. What is more, there are no V.I.P players or illusive bonuses to lure you into gaming. Everybody is equal at Stake.
One truth with any business hosted online is the limitation for them to be sufficiently regulated and watched. With brick and mortar casinos it is easy for players to watch as a deck of card is shuffled, which might not be the case for a virtual blackjack gaming software. Also, in states around the world, like Nevada where gaming is well regulated, the slot machines before being used for gaming, must be tested and satisfied for use. But such experiences are not possible with online gaming platforms.
However, at Stake casino, they took the initiative to go a step further, beyond word of mouth assurance, to incorporate an unbiased outcome validating software, with a cutting-edge algorithm, which helps players see how these games generate their results. In this regard, all of their gaming activities are geared toward fairness, in every gaming experience.
Stake Casino in a nutshell
While they have a list of just 12 virtual games, players are sure to have a pleasurable gaming experience. What is more, besides individual gaming, Stake online casino has a well-evolved community that makes life at Stake more beyond gaming. While every gamer stands a high chance of walking away, with some win, one thing is certain at Stakes; you are sure to have a fair and un-manipulated game, all wrapped in thrill and excitement. Also, Stake is absolutely cryptocurrency enabled.
Stake Casino site layout
One common feature found among online casinos is a dead-night background with a scintillating colorfulness that brings the Sin-city to mind. However, Stake took the initiative to give both a night mode feature and a day time mode, of a white background with gray colored text and a sunny-sky blue header background, which brings a sunshiny day to mind.
Also, the pages are well packed with just enough tabs and icons to help even a first-time player find his way around the virtual walls of its interface. What is more, the top right menu is packed with sufficient tabs, to take you to any page you would want to visit. Also in the footer of the page is a footer menu that is at the visitor's service. The Stake team also took the initiative to feature, over six major international languages, for prospective visitors, the world over. Finally, at the tail-end is a badge of Crypto-gambling.org endorsing Stake casino as a verified online operator.
Stake Casino bonuses
One thing the Stake team seems to emphasize, the hell about, among other things, is a fair and open gaming process.
This is one online casino, which does not have, any of the first time bonuses, or free spins, that is prevalent with online casinos. However, they give out varying types and levels of faucets, for different levels of participation both in the Stake forum and chat room. These bonuses are usually announced on the Stake forum, or on their Bitcoin talk thread.
Stake Casino deposit and withdrawal
They only allow cryptocurrency, with Bitcoin and Ethereum included on the list. Also, there are over 46 altcoins to game with at there. One cool feature you will see is that the altcoin tab links you to ShapeShift, where you can exchange your coins with all of the altcoins allowed at shapeshift.io, including Bitcoin.
Stake.com Casino games
while you might be tempted to look down on its list of just 12 games, which range from poker, roulette, baccarat, dice, plinko and several others; those games are packed with all the fun you would expect from a real life casino table, also adding, its lively community.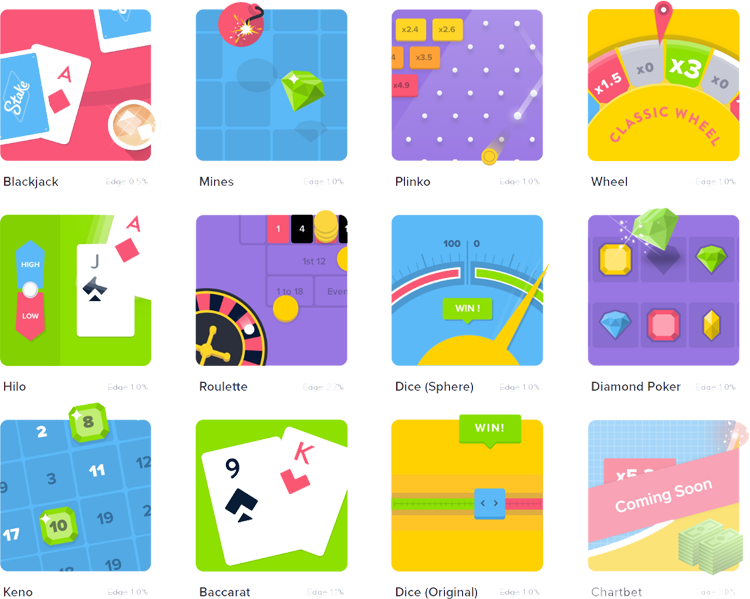 The crowning achievement of all of the Stake features is the random number generator; this generates fair random numbers that are provable, to help the player monitor the validity of every game's outcome.
Stake Casino customer support
This is one online casino that has a well-evolved community of players and support. The support team is well represented on all of their social media accounts as well as on the Stake forum; on that forum, players are allowed to interact on all levels with other players.
Also, their support team is very responsive and online 24/7. Also, there is a live chat option, for ease of interaction, with the customers.
What is more, they have a well-organized FAQ section, which covers most of the problems players face on a daily basis.
Stake.com mobile platform
Without needing a mobile App, there is a fully optimized mobile version of Stakes that allow its players have that one moment in time experience, while gaming on their mobile devices.
Stake Casino safety & security
Registered on the Island of Curacao, like many online casinos with a reputation for confidentiality, out there the law is very fair on gaming businesses. Although players from the USA and Australia aren't allowed to game.
Also, Stake uses a high level of SSL encryption which ensures the players financial and informational security. With this feature, all data transfer is well protected against all intruding third-party malware.