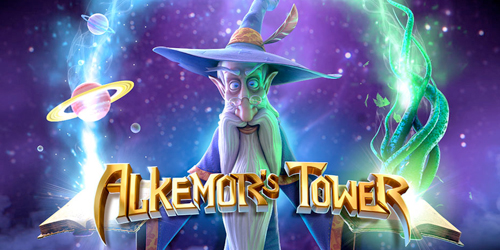 Betsoft unveils "Alkemor's Tower", their latest magic-themed virtual slot machine that is now available on all major Bitcoin casino portals!
This is a 5-reel game with 243 paylines which features an eponymous main character, and elderly magician with a long beard who possesses tremendous supernatural powers! And yes, he's the one who can help you win an immense Bitcoin prize eventually!
The slot boasts lively 3D graphics peppered with a quaint soundtrack and funny audio effects, making this game as greatly entertaining as a slot machine can possibly be. Quite expectedly, the reel symbols are all related to witchcraft and magic, as here you get glowing crystals, scrolls, mushrooms in pots, gem bags, magical scales, potion bottles, old golden rings with precious stones… Oh, Alkemor surely does what to do with that kind of stuff!
Your main coin booster in this game is its unique feature called Elemental Spells, and this is triggered every time you land a spellbook symbol on the first two reels, and a spell icon on the middle reel. Still, you can go for even more if you succeed in scoring another two spellbooks, this time on the two latter reels. In this case, the spell cast power will reach an over-the-top level!
"Alkemor's Tower" enables you to benefit from four kinds of spell bonuses during the gameplay, starting with Water Wave, the first one, which transforms spellbook and spell icons on the second and fourth reels into wilds, as well as adding random symbol to the reels. Actually, the remaining three spell bonuses – the Meteor Dust, the Air Tornado, and the Fire – are also capable of turning spellbook and spell symbols on reels 2 and 4 into wilds, but, apart from it, each of them has its own unique purpose. While the Meteor Dust is also responsible for replacing some symbols on the grid with new ones so as to help you construct new winning combos, the Air Tornado can actually do the same by shuffling the existing reel icons, whereas the Fire spell increases value of spellbook symbols, which lets you take advantage of extra wilds. There are no stand-alone wilds or scatters as such in the "Alkemor's Tower" slot game, but you can still have something special instead of these. Namely, try to land a Free Spins Floor symbol and two spellbook icons on a winning payline, and voila – you will unlock a secret floor in Alkemor's mansion where you will get an opportunity to benefit from two exclusive bonus sequences – either The Nature Floor or The Celestial Floor!