Gambling fans around the world who feel bored playing one and the same slots, it's time to discover something new for yourself. This article will give you a comprehensive overview of Plinko, an arcade game you must try. It doesn't require you to obtain any specific knowledge or skills – rely on your luck and let's see where it goes. Many crypto casinos let people play Plinko with crypto. Use this opportunity if you haven't tried it before. Let's start your exciting journey to a brand-new Plinko world. 
Introduction To Crypto Plinko
Plinko crypto game, an innovative fusion of the traditional Plinko game and the cutting-edge world of cryptocurrencies has garnered attention in the online gambling community. At its core, it's a game of chance in which players drop a ball onto a pegged board and see where it ends, without being able to influence its path. The distinguishing feature of crypto Plinko is the use of digital currencies like Bitcoin, Ethereum, and Litecoin for placing bets and receiving winnings.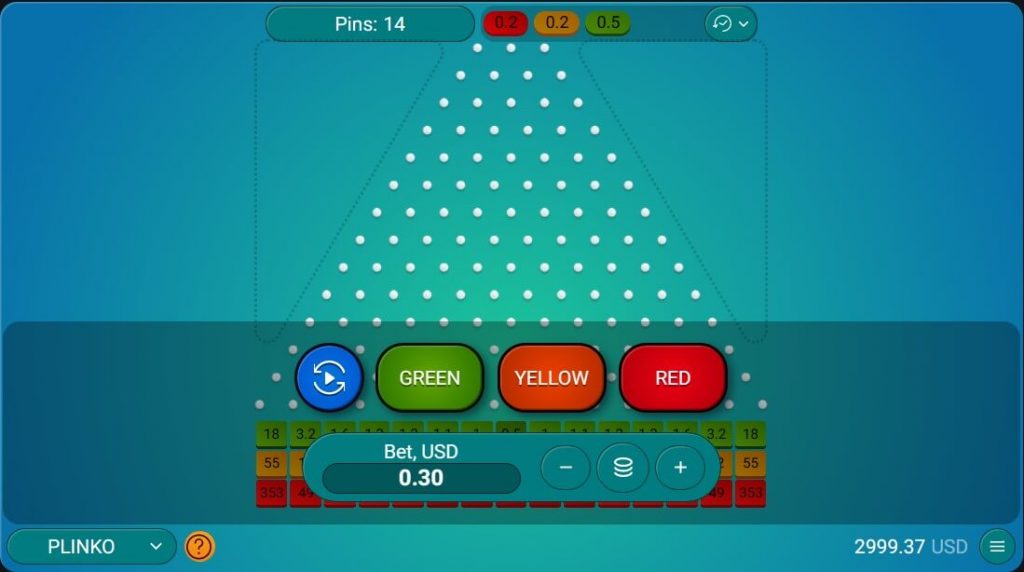 Plinko Game from Spribe
Plinko originates from the popular television game show "The Price is Right," which was first aired in 1983. The game quickly captured the hearts of viewers with its simple yet captivating gameplay. And then Plinko gained popularity through various adaptations, including board games, online versions, and even casino installations. As the world of online gambling expanded and evolved, the integration of cryptocurrencies into traditional games became inevitable.
The emergence of Plinko BTC can be traced back to the increasing acceptance and adoption of cryptocurrencies over the past decade. Digital currencies have made their way into various industries, including online gambling. Gamblers now don't need to pay large fees and can enjoy higher anonymity.  Crypto Plinko combines the excitement of the classic Plinko game with the advantages of using cryptocurrencies. 
The game has not only revitalized the classic Plinko experience but also ushered in a new era of crypto gambling.
What Are The Rules Of The Crypto Plinko Game?
Plinko is an engaging and accessible game that appeals to a wide range of players, thanks to its simple yet captivating gameplay. Crypto Plinko game incorporates both the traditional Plinko experience and the benefits of using cryptocurrencies.
The basics of the game presuppose placing a token onto a board with pegs and letting it move through the pegs to one of the many spaces at the bottom. The player's objective is to get the best outcome for themselves – a situation when the token lands on a slot that pays out the most money. It can be done by chance or by using a number of different techniques. But the role of chance in it is still predominant.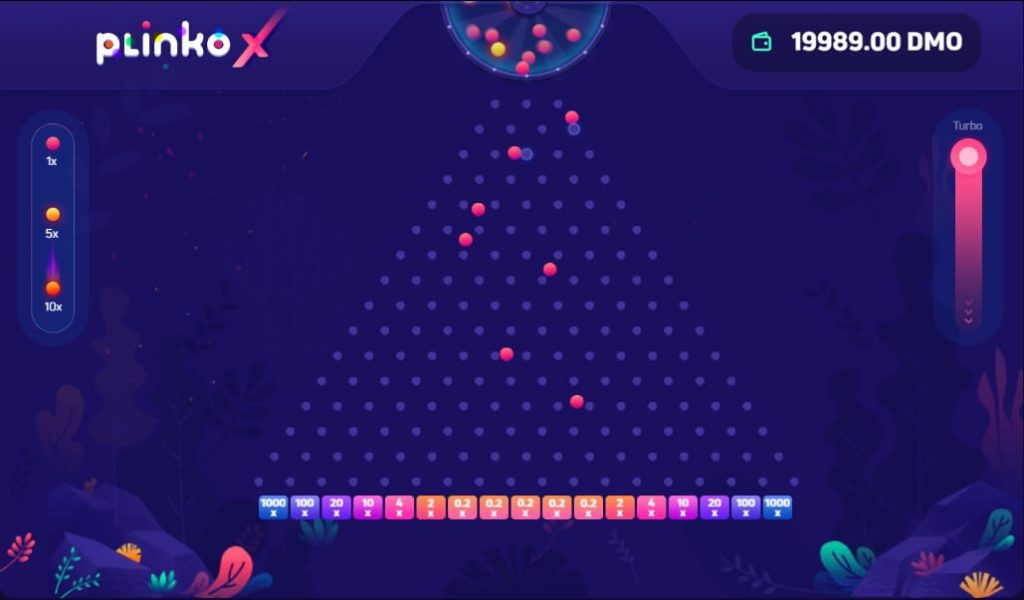 PlinkoX from Smartsoft
The token's path is determined by its interaction with the pegs on the board. As the token bounces off the pegs, its trajectory becomes increasingly unpredictable, adding more excitement to the game. Once the token reaches the bottom of the board, it lands in one of the designated slots, each offering different payouts based on the slot's position and the platform's specific rules. Players receive their winnings according to the payout corresponding to the slot in which their token landed. 
How To Play Plinko With Cryptocurrencies?
Since you're already aware of the basics of Plinko gambling, you can go play it right away. If you're new to the world of crypto gambling or gambling itself and don't know how to start, we are here to help you. Follow these steps to enjoy crypto Plinko:
Do research to find the platform to play. We'll give you some tips and recommendations on it in the next section.
Register and verify your account. If you're committed to going and trying this game, don't waste time on demo mode. Fill out the registration form and submit the documents that are required for account verification.
Load your funds. When you get a notification that your identity is confirmed, you have the opportunity to make your first deposit. Go to the cashier section, choose one of the cryptocurrencies in the banking options, and enter the sum with your crypto wallet address.
Start playing. Usually, deposits in crypto are processed instantly, so you won't need to wait for too long to start your P

linko game crypto

experience. 
Secrets Of Finding a Good Platform
Your impressions after playing the Plinko game online depend on the online casino you pick. Several well-known Crypto Plinko platforms have earned their reputation by providing high-quality gaming experiences and top-notch security. Some of them are
These platforms offer a diverse range of gaming options, including Crypto Plinko. However, if you find another place to enjoy BTC plinko, you're free to use it. When selecting a platform, it is crucial to compare the different factors:
User interface;

Supported cryptocurrencies;

Payouts and house edge;

Bonuses and promotions;

Mobile compatibility.
There's a factor we would like to discuss in more detail – regulations and security. These are vital aspects to consider when selecting the right option:
Laws and regulations. Select a platform that complies with industry rules and is operating under a valid license.
Security measures. Choosing a platform with strong security features, such as SSL encryption and two-factor authentication, is a wise choice.
Gamblers opinion. Examine user comments and reviews to determine the reputation of the platform among users.
Transparency. Transparency: A platform that is open about its business practices, house edge, and provably fair system is considered more reliable.
Be careful and picky when selecting a crypto casino Plinko. It'll help you make an informed decision and select the most suitable option for your needs and preferences.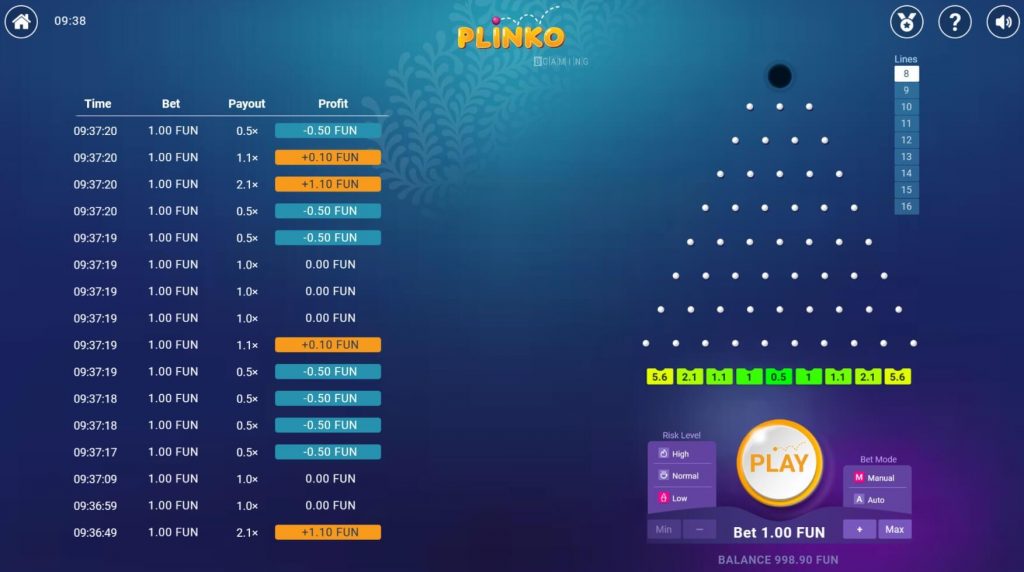 Plinko game from BGaming
Key Features of Crypto Plinko
In the world of online crypto gambling, Crypto Plinko has quickly become a popular and exciting game. Let's discuss some of its features to understand why gamblers around the world adore the Plinko gambling game.
Easy-to-understand gameplay. Plinko is a simple game that both newcomers and seasoned players can find appealing. Dropping a ball from the top of a pegged board and aiming for the highest-paying spot at the bottom are the objectives. Nothing more is required.
The role of luck is high. As tokens bounce off pegs in different ways, the game's unexpected nature creates a sense of tension and excitement. Due to the element of chance, crypto Plinko is both interesting and difficult.
Crypto integration. Players can deposit, withdraw and play using a range of digital currencies with Crypto Plinco, which integrates cryptocurrency into the gameplay.  This innovation gives the classic version of the game a distinctive touch and might give players more value overall.
Variety of payouts. Each of the bottom slots gives a distinct payment. This variation encourages players to plan ahead and pursue the highest-paying slots, boosting the excitement and competitiveness of the game.
Provably fair algorithm. The

Plinko Bitcoin

game uses a provably fair system to make sure that the game's results are open, random, and impartial. This feature improves the game experience's integrity and sense of trust.
Multiple device compatibility. The majority of crypto Plinko casinos work on computers, laptops, tablets, and smartphones. Players can take advantage of the game on a variety of platforms and devices thanks to this functionality.
Are There Any Winning Strategies for Plinko?
We have already mentioned that Plinko crypto is predominantly a game of chance. However, players have developed and employed certain strategies to maximize their chances of winning. Here are some strategies you can consider trying:
Examine the peg placement on the board to spot any movement patterns or locations where the ball is more likely to land. You can use this study to choose the ideal starting point for token dropping.

Establish and adhere to a spending limit for your game session. By managing your funds, you'll be able to save money and decide when to place more or fewer bets with greater knowledge.

Change the size of your bets based on your performance and risk tolerance. Consider gradually raising your wager if you're on a winning streak to take advantage of the momentum. On the other hand, if you're having a bad run of luck, cut back on your bets or stop playing.

The payout tables and house edges of various

Plinko crypto casino

sites may vary. You can take advantage of the greatest odds and even raise your winning possibilities by playing on various platforms.

Use the bonuses and promotions that casinos are offering. These benefits can increase your bankroll and give you more chances of playing and winning.

Register in online forums and groups where players of crypto Plinko can exchange tips and stories. Learning from others can help you get insightful knowledge and enhance your gameplay.

Keep in mind that winning streaks could not occur right away because Plinko is a game of chance. When playing, use patience and keep the big picture in mind.

Set win and loss limits for your gaming session. Knowing when to walk away can help you retain your winnings or minimize your losses.
The Bottom Line
In conclusion, Plinko gambling crypto is a fun and captivating experience that combines the accessibility of classic games with the benefits of cryptocurrency. Players can increase their chances of success and have a great time by getting acquainted with the fundamental rules, adopting winning techniques, and utilizing the crypto element. As with any type of gaming, it is crucial to approach Crypto Plinko with a responsible mindset.
 It is critical to strike a healthy balance between gambling and other elements of your life. Avoid allowing the game to occupy too much of your time or resources, and keep in mind that it should be a source of fun and entertainment rather than worry or financial hardship.
Crypto gambling Plinko may not be legal in all regions, so it is crucial to know the rules in your area.   When playing Plinko with cryptocurrency, research your local restrictions and make sure you're following them. To avoid potential complications, stay informed about changes in the legal landscape, and consider seeking professional guidance if you're concerned about the legality of crypto gaming in your jurisdiction.