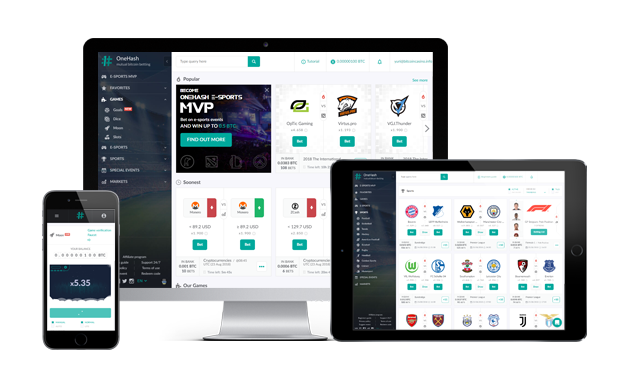 Onehash provides diverse gaming opportunities from sports betting, casino games, to general life events. Their games are also provably fair, and most of their winnings are on a mutual betting basis. This site provides a new spin to betting that is independent of the site operators.
Onehash in a Nutshell
With games that are provably fair, a mutual betting winning distribution system, the ability to place bets without any account registration, and the use of bitcoin, Onehash is one betting platform that guarantees maximum fairness and players' interest. What is more, beyond sports event, casino games, and e-sports games, bets are made on random situations, especially events in the entertainment industry and politics.
Onehash site layout
The developers of this site made sure for its responsiveness; the interface is clear simple and navigation friendly. The top-left menu bar offers a door-way across all the pages and functions on the site.
Bonuses and Promotions
Unlike other betting sites, with lots of bonus plans, Onehash only offers a first time deposit bonus for 100% up to 1 BTC and a bitcoin faucet plan.
Bonuses are only active for 180 days after the first deposit.
Onehash deposit and withdrawal methods
All transactions are done in BTC; this could either be through the Onehash wallet or a user's bitcoin wallet. Placing a bet on Onehash doesn't require any sign up, however bettors can sign up if they want to.
Since most winnings are distributed based on mutual betting basis, the house edge equivalence that goes to the site owners is a 1% average, on all its games which is quite small.
The maximum deposit that can be made to a Onehash wallet is 3 BTC; however, winnings bigger than that can be held in the wallet, before being transferred to the players wallet.
Users can request a withdrawal from their OneHash Wallet at any time and they are also eligible for one free withdrawal every week. The minimum withdrawal amount per wallet is 0.005 BTC.
For security reasons, all assets are stored in the Onehash cold wallet; hence all requests needs to be manually verified by the OneHash management, before withdrawal transfers can be made.
All cashouts of anonymous bets are made automatically to the winner's bitcoin wallet, without requiring a withdrawal requests.
Also, having a Onehash wallet is free, for all active users of the wallet. However, any account that stays dormant for 90 days, becomes inactive, which will require a 0.005 BTC maintenance fee to reactivate such account.
Software and games
As a mutual betting site, some of the betting events are not just on games; their betting options range from live sport games, e-sport games, some casino games, and general life events, all of which includes Dice, Goals, Moon, Slots; also for eSport games they have CS:GO, DOTA 2, LoL, and Call of Duty; – most of its games are custom fit to it.
Bets on special events include events in the broader entertainment industry, such activities could be activities like "who will play what role in an upcoming movie series." etc. This is one place where the use of mutual betting comes in.
Mutual betting
This form of betting, is more like a wagering contest. Users place bets against other bettors, so the winnings are defined by the amount that are generated from the opposing ends of the pool. And the fund is shared according to the contribution of each bettor from the winning category. With this the house edge is about 1% on average.
Also there is the use of provably fair number generator to confirm the genuineness of every game outcome.
Customer support
The onehash support is responsive enough as there is live chat option available. Their average response time thorugh email is about 12 hours.
Mobile platform
The Mobile version of the site is web base; however, it functions like a mobile app and it is quite responsive. The menu and tabs are compatible and well placed to ease navigation in the site. Also, no mobile apps are needed for any of its games.
Security
The fundamental idea behind the creation of this gaming site is player's anonymity, Information security, and the genuineness of the games. This is seen in the use of provably fair software, a mutual betting system, the use of Bitcoin and the ability to bet without registering. Also they have formidable fire walls, and also their SSL encryption tech is reliable.
---
Pros:
● The use of bitcoin guarantees some form of security and anonymity
● The use of the mutual betting system, reduces the house edge to a 1% average, and an expansive winning possibility
● Its games uses provably fair random number generator, to confirm the genuineness of an outcome
● Players don't need registering to place a bets
● There are no regional restrictions, due to the use of bitcoin
● Players have the privilege to suggest a gaming event to the support team
● LiveChat support available
Cons:
● Varying currencies aren't permitted, just bitcoin
● Maintenance monthly fee of 0.005 BTC for an inactive account that stays dormant for 90 days