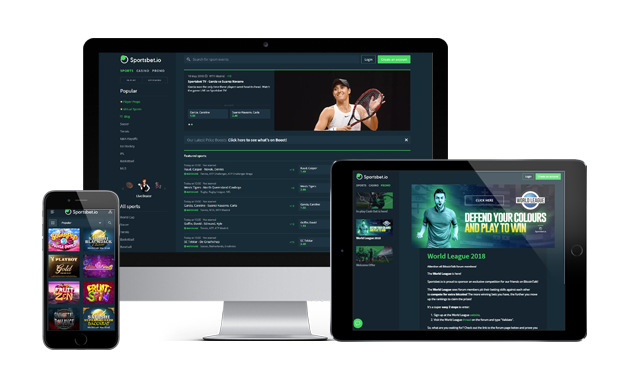 For sports fans and bettors all around the world, the launch of the SportsBet.io platform has been one of this summer's most iconic wagering-related events. The eventual opening took place on June 1st, so as to anticipate the start of the eagerly awaited UEFA EURO 2016 Championship, with bets on its markets and a variety of other sports instantly becoming available. As SportsBet.io themselves claim, they have one of the best odds offerings in the entire market. Well, while it's for users to decide ultimately how favorable the odds really are, let us take a closer look at the new sportsbook's other features.
SportsBet.io in a nutshell
Marketed as the official sports betting partner of the acclaimed BitCasino.io virtual gambling portal, SportsBet.io pretty much shares the latter's functionality, and features similar attention-to-details approach, which, at one point, is small wonder, as the platform is also powered by CoinGaming.io. What you get here is a rather comprehensive set of betting markets on all major championships and events, which is to be substantially expanded over time. For example, as promised by SportsBet.io, overall, they are to offer markets on 350,000 events per year across a wide range of sports, including an impressive range of live bets and hundreds of in-play markets to be offered for all major sports. More interestingly, so as not to fall out of the current trends, the platform has also wagers on a selection of eSports events enabled for their bettors.
SportsBet.io website
Although the portal doesn't look any out-of-this world, the odds are great its design and layout are completely in line with your vision of a proper (and, for some, even a perfect) sports betting platform. The black/green/grey/orange color scheme doesn't seem to go against the grain, as it leaves rather balanced impression overall.
The arrangement of the interface is somewhat traditional for sports betting portals, with SportsBet.io, too, having their selection of markets grouped in an upright directory on the left side of the main page. This directory is clearly divided into two sections – the Featured and Other sports, accordingly. In the first one, you can find markets for all currently in-full-swing events or championships, and the eSports markets are also there permanently, while the second section is bigger for obvious reasons, as it contains all the remaining markets.
Apart from the market/event directory, additional navigation is available via the laconic yet efficient header menu getting you to Live Betting, Casino, Promotions, and About sections, with the latter also including terms and conditions, betting rules, and other useful information.
Your virtual bet slip (yellow tab) is clearly visible on the right, and you may find it extremely handy to have it, as it contains all the current data on your current bets, either single ones or multi-bets.
SportsBet.io bonuses
At this moment, there are no bonuses in the usual sense offered to SportsBet.io customers, i.e. there is no possibility to get a deposit or no-deposit bonus. Still, bettors may be willing to take advantage of the portal's 3,000 to 5,000 mBTC daily lotteries, tickets to which can be received for making bets on certain events, or getting engaged in other wagering activities. For instance, for active bettors on EURO 2016 markets, there has been a Leaderboard competition introduced by SportsBet.io, boasting a 12,650 mBTC total prize to be divided between 50 best participants (1 BTC prize for each of the TOP-5 winners). The chances are great the regular bonus system and other promotions are to become available to users soon enough, especially that this summer's Summer Olympics in Rio are to start in less than a month, and we are waiting for the sportsbook to rejig their promo offers in an even more lucrative form.
SportsBet.io depositing and withdrawals
As can be readily appreciated, the only supported currency on SportsBet.io is Bitcoin. In order to top up your gaming balance, you will need to send a desired amount of (m)BTC to the portal's unique address by entering the latter in your BTC wallet's 'send to' field. Another option would be scanning the QR-code the portal also provides in their 'Cashier' menu using your webcam or smartphone's camera. Please keep in mind that the smallest deposit you can make is 1 mBTC, or 0.001 BTC.
Traditionally for CoinGaming-powered gambling websites, transactions are instantaneous, i.e. take the smallest reasonable time to be completed.
In case you don't have any (m)BTC to start making wagers with on SportsBet.io, there is an option to purchase the desired amount of those instantly by using any of the trusted exchange platforms links to which are available in the 'Get Bitcoins' sections of the 'Cashier Menu'.
SportsBet.io betting opportunities
There is great variety of sports markets to wager on SportsBet.io, and these, unsurprisingly, include the most popular championships, events, and matches you can currently think of. At the moment, the choice of sports comprises 17 major categories: American Football (including the Canadian League), Tennis men (ATP and ITF) and women (WTA), Cycling, Baseball (USA, South Korea, and Japan leagues), Basketball (NBA, WNBA, and other leagues), Soccer (a comprehensive selection of national leagues here), Boxing, Cricket (One Day and ECB 50), Aussie Rules Football, Golf (PGA Tour and Winner markets), Formula 1, Rugby Union (Currie Cup and Super Rugby) and Rugby League matches (Australian and Super league), Mixed Martial Arts (UFC fights and Ultimate Fighter markets), Volleyball Men, and Snooker.
It's definitely worth being mentioned sportsbook users are also offered the possibility to make outright bets, live sports bets, and special bets (e.g. elimination, group winner etc.) on specific matches and games. The display of odds is switchable between decimalised (as default), American, and fractional odds, which makes the usage of the platform convenient for users from any part of the world. And by saying 'any' we also mean that bettors from Northern America are also welcome to join SportsBet.io.
Back to the topic of sportsbook's conformity to modern trends, we bet you will be truly delighted to learn bets on eSports are also fully available to bettors on this portal, with wagers on 'League of Legends', 'Counter-Strike: Global Offensive', 'Dota 2', 'StarCraft 2' accepted in several betting categories, and markets for other immensely popular online games like 'Hearthstone' and 'Overwatch' to be added to the choice soon enough as well.
By the way, SportsBet.io is also bringing you a carefully selected choice of almost 340 casino and slot games by several internationally recognized providers like Gameart, Ezugi, Takisto, Betsoft, Endorphina, and several others. That's in case you get too much bored trying your luck by predicting the outcomes of selected events, and wagering on it, but, for such purposes, you actually have BitCasino.io, too. In most of the cases, though, you'll be fully satisfied with a selection of games that comprehensive.
SportsBet.io customer support
The sportsbook's 24/7-operating support service is all there to help you with any betting or payment related question/issue you may have, so don't hesitate to contact them via the portal's live chat whenever you feel like doing so. The corresponding button is available on every page of their website. Otherwise, feel free to get in touch with the support team via email, Facebook, Twitter, or their thread on BitcoinTalk forum.
SportsBet.io mobile platform
The great news is that SportsBet.io can boast a functional mobile version that is device-specific, and adjustable to parameters of your phone or tab. Although, for obvious reasons, the platform's mobile design is much more compact and laconic compared to standard one, it still allows for almost complete instant access to the website's features.
SportsBet.io security
Being a part of the CoinGaming.io Bitcoin gaming platform, the sportsbook is regulated and licensed to conduct online gaming operations by the government of Curacao. So as to keep your personal information protected full-time, SportsBet.io claims to have implemented all the suitable technical and administrative controls, including physical, electronic and managerial procedures, to safeguard the security of the data you provide to them. To enhance the protection of your information, SportsBet.io uses SSL encryption. In accordance with the company's policy, your personal information will not be disclosed to anyone other than CoinGaming.io employees that require access to your data in order to provide services to you.
Google authentication option, which is absolutely available at SportsBet.io, would seem more than reasonable for customers who really care about their account security (and, most likely, you are one of them).