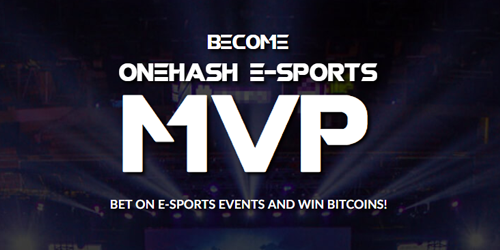 OneHash is giving away its main prize of 800 mBTC to its most valuable bettors, and several other bonuses to five other randomly selected players this month, starting from the 20th of August to the 23rd of September.
It's quite simple! The more bets you stake, the more points you make; this means more value in the wagering contest. Which increases your chances of winning.

How It Works
For every bet, that is on or above one mBTC, placed on any eSport game; players are automatically credited with value-points, for this wagering contest. At the end of the contest, the first place winner, with the most points, gets 500 mBTC; the second gets 200 mBTC, and the third place winner gets 100 mBTC.
Also, there will be bonus giveaways of CS:GO skins like Karambit Doppler, M4A4 Neon Noir, and several others. these five winners are chosen at random.

Hurry now! and place your bet on as many eSport games as you can, and increase your chances of winning. Check the bonus terms and conditions page for more info.