BitCasino.io gives free bitcoins to their players, both new and existing ones! Take part in the '1 BTC Raffle' promo to get your part of the impressive Bitcoin prize!
BitCasino.io gives you free bitcoins, and you don't really need to do anything special to get them. Just go to BitCasino's '1 BTC Raffle' promo page, fill in and submit the brief participation form, and that's it!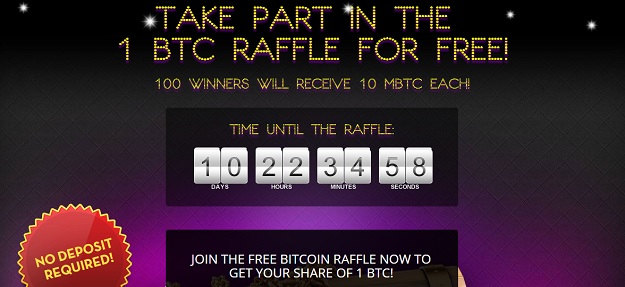 It doesn't really matter whether you're an existing or new BitCasino.io player – all users have equal chances to participate in the '1 BTC Raffle' promo, and win their part of the impressive 1000 mBTC total prize. All in all, there will be 100 lucky winners, and who knows, maybe you're going to become one of them!
Visit BitCasino website and try your luck already now!
This promotion runs until September 6th, 2015. BitCasino.io terms and conditions apply.