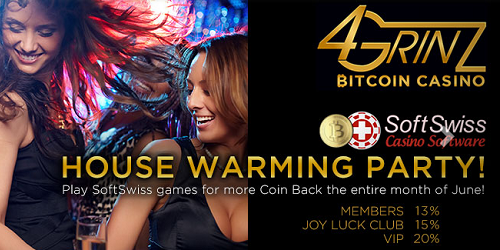 Have you seen the series of visual and content updates 4Grinz gaming portal has gone through recently?
This all has had a good reason to be introduced, because the casino has MOVED! Yes, they have, and as they have been using their new much improved platform for some time already now, 4Grinz team believes the time is ripe for them to hold a House Warming Promotion for their players!
In actual fact, 4Grinz casino has migrated to a highly-advanced SoftSwiss platform being hugely popular with the industry's top brands, meaning now there is one more great casino to offer you the developer's quality gaming content. Isn't it a nice reason for you to join their House Warming promo?
As part of it, you can play dozens of SoftSwiss games now available at 4Grinz through June 31st, and enjoy the increased Coin Back rate:
– 13% Coin Back for casino members!
– 15% Coin Back for Joy Luck Club members!
– 20% Coin Back for VIPs!
And yes, if you're looking specifically for SoftSwiss games at 4Grinz, you'll get access to them within just a couple of seconds! Just scroll down the main page to see the new handy category menu, and you will see SoftSwiss games there instantly.
Apart from the updated gaming content, all thanks to 4Grinz having migrated to SoftSwiss, now you can also take advantage of the casino's substantially reduced page loading time, much smaller fees, improved looks and design, and, no less importantly, enjoy a far more safe and reliable gambling environment!
Stay tuned for more news from 4Grinz this summer already!