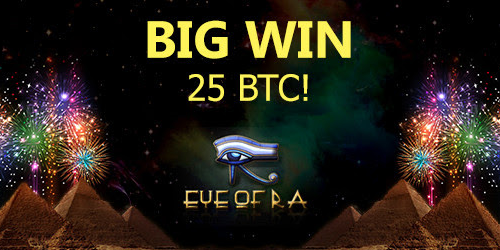 Some great news coming from 7BitCasino, too! For at least one of their players, but, actually, for all of us as well.
It all happened last week when Dan, a lucky bettor at 7BitCasino, was enjoying the reel-spin action playing the 'Eye of Ra' slot machine, one of the genuinely iconic games by Amatic. Suddenly, the almighty Egyptian god sent the Canadian guy a sign of his mercifulness, in the form of a hugely impressive win.
Dan is a factory worker, and loves playing online games a lot, saying "it takes [his] mind off of life's challenges and helps [him] escape", with 'Eye of Ra' being his "main addiction" at the moment, especially that he has been "having some decent luck at it lately". Being a family man, Dan is planning to spend his winnings on wife and kids, saying "they are going to be getting a nice x-mas vacation this year. Maybe a cruise of the Baltics".
Let us thank Dan for sharing his story of becoming a lucky winner at 7BitCasino, and wish him all the best! What you should know is this casino provides multiple possibilities for you to surpass Dan's achievement and go for an even bigger win!
This summer, 7BitCasino have updated their welcome offer for new players massively, as it now includes extra package of 100 free-spins in addition to the 3 BTC (or €1,000) of bonus funds!
The offer now comprises four deposit bonuses:
– 100% up to 1 BTC (€250) bonus + 100 free-spins on the first deposit
– 25% up to 500 mBTC (€250) bonus on the second deposit
– 25% up to 500 mBTC (€250) bonus on the third deposit
– 25% up to 1 BTC (€250) bonus on the fourth deposit
That's a more than impressive amount of bonus funds to give 7Bit's fantastic range of 1,000+ games a proper try!
Guaranteeing a top-class gaming experience to both new and hard-boiled players thanks to its huge selection of immense slots and casino games, as well as a set of special bonuses, options and functionalities, including friendly and helpful support service and instantaneous BTC payments, 7BitCasino is very likely to become an ultimate casino gaming platform for those looking for a really special virtual gaming experience.