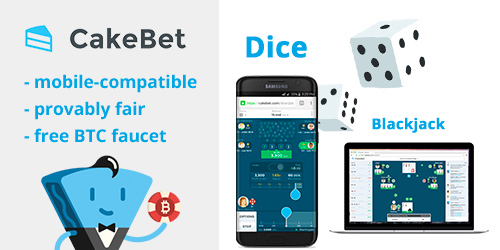 Some more delicious gameplay for you by the CakeBet portal! This time it's provably fair multiplayer virtual dice with an intriguing set of features.
CakeBet say they are an online casino that makes Bitcoin betting a piece of cake. Why don't you make sure it's really true and push your luck playing their newly-launched advanced game of dice already now!
It can boast a set of really cool features, which includes:
– complete mobile compatibility (iOS, Android, Windows Phone)
– provably fair play that guarantees a casino is providing a fair chance at winning for you
– auto-betting mode
– multi-player gameplay support
– free mBTC faucet getting you a starting amount of 100 bits before you even deposit
– only 1% house edge
and many more!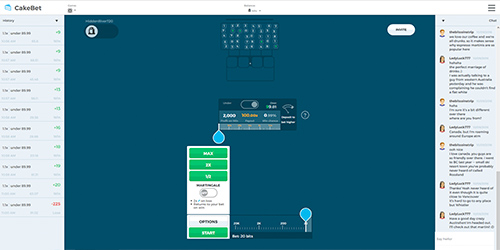 Aside from it, a unique username is created automatically for you as you visit the CakeBet website, but you can always sign up using the one you prefer whenever you would like to do so. In the dice game, the betting range is adjustable from as little as 20 bits to as much as 50,000 bits, while the under/over range can be changed from 0.99 to 90.00 and from 10.00 to 90.01, respectively.
Alternatively, if you would like to try your hand at another immense classical game CakeBet has in store for you, their multi-player Blackjack is all there for you, too! Both games are available to be played for real bitcoins, or for free. By the way, whenever you start having consecutive wins playing either of the games at CakeBet, a Coin Sprinkle is unlocked, which enables you and everybody else at the table to receive free amount of BTCs. The point of having it is making it easier for you to increase your bets, as well as add up quickly every time somebody at the table has several wins in a row.
At CakeBet, player security is provided at multiple levels: from protecting funds deposited by users and making backups of database to multiple layer data transfer protection system which includes CRSF tokens usage (for prevention of unauthorized requests on a player's behalf), applying XSS filters, salting/hashing passwords, and other vital measures.
CakeBet promises winning is possible anywhere with them: when chilling at sea or commuting with your smartphone at hand, or enjoying your evening break with a laptop!