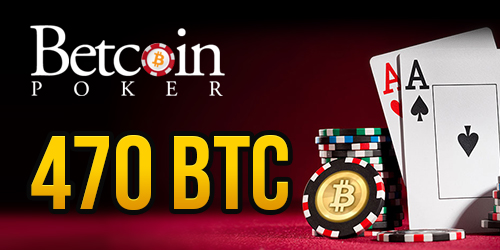 Congratulations to Betcoin player Whitelime on becoming the biggest winner in Bitcoin poker history with his immense final prize of 470 BTC (over $109,000+).
All in all, there have been over 1,549 entrants fighting for their share of the 4,330 BTC ($1,000,000) prizepool in the Betcoin Poker Million Dollar Sunday tournament that took place on September 13, 2015, with a solid 866 bitcoins ($200,000) being the guaranteed prize for the winner.
The exhausting stand lasted for several hours, and ended with Whitelime striking a deal with the four other competitors at the table, which left him with a final prize payout of 470 BTC. Despite being almost half of the initial guaranteed prize, it's still the biggest ever earned winning in the world of Bitcoin poker. Whitelime (which is the name of Betcoin Poker regular player Emil Patel) should be feeling really lucky, as otherwise he would have placed 3rd in the tournament, with a substantially smaller prize of 340 bitcoins.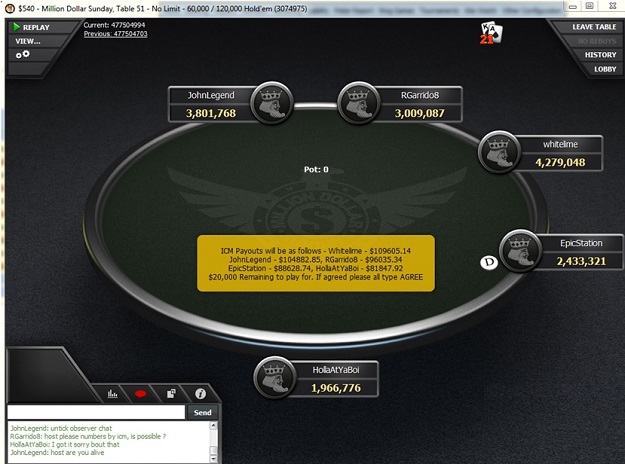 Learn more about Whitelime's winning strategy from his interview to Betcoin.
BETCOIN: How long have you been playing online poker?
Whitelime: About 10 years.
BETCOIN: Is this your biggest win? What are some other big wins that you have had?
Whitelime: Yes. Biggest win in an MTT. I typically play a lot of cash games and SNGs. Betcoin opened me up to playing MTTs though.
BETCOIN: What was your strategy going into this tournament?
Whitelime:My strategy was to get many players into a hand as possible and outplay their range. The structure of an MTT tends to reward luck over skill, so I try to change the rhythm of the game and gain additive EV over as many hands as possible. Most pro players don't want to do this. They rather play autopilot and stick to textbook MTT strategies and exploit weaker player mistakes, especially early on. However, I'm of the opinion that you should work hard for your money. The more you sweat in peacetime, the less you bleed in war.
BETCOIN: You made a deal to split the pot with 5 players despite being the chip leader at the time. Why?
Whitelime: Once it got condensed to 5 good players, with the blinds as high as they were, it was essentially anyone's game. Yes, I was "chip leader" but I only had about 27% of the chips, with an average being 20% of the chips. Placing in 3rd-5th was a real possibility and the payout was far less than my deal. In fact my deal was roughly the same as 2nd. It was a good deal. Donald Trump was watching the game and even agreed I made a good deal.
BETCOIN: How has your experience been at Betcoin Poker?
Whitelime: It's the only site that merges fiat and BTC poker networks. This makes it by far the biggest BTC poker site currently. That in itself is a big selling point and why I play/promote this site.
BETCOIN: What do you plan to do with the 470 btc ($109,000) in winnings?
Whitelime: Play more of course! I might check out the sports betting on Betcoin as I am a big NFL sports bettor :). I'll probably lend some BTC to friends I know and have them play too. I love this site.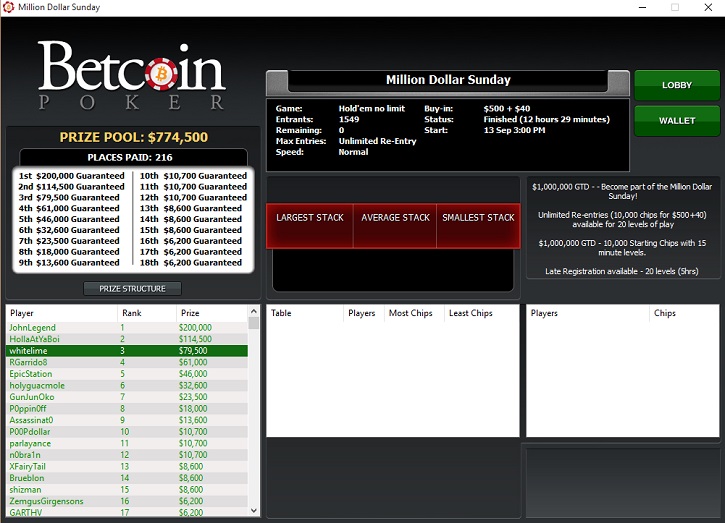 On Betcoin Poker gaming platform, you too have multiple opportunities to enjoy your favorite game, and be rewarded with substantial winnings in the variety of the room's tournaments, including the weekly Million Dollar Sunday.