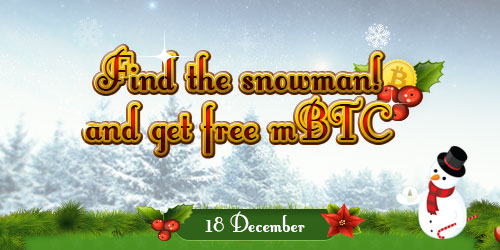 BitCasino Advent Calendar promotion starts on December 18th with Day 1 task: BitCasino Find the Snowman promo! Just find the Snowman symbol on their website to win!
Mr. Snowman got so excited playing bitcoin games on BitCasino he eventually got lost. Can you find him?
Look for Mr. Snowman everywhere on BitCasino website pages, and if you happen to find him, submit the link of the page you spotted him on using the special fill-in form.
Be among the 500 quickest participants to get 10 mBTC prizes each for the efforts.
P.S. You have 24 hours to complete this task before the next promotion starts.
The prize will be credited to your BitCasino account the following day. Terms and conditions apply.
P.S. Remember to be quick and be among the first to get advantage of this promo, as already at 00:01GMT the next BitCasino Advent calendar promotion will be launched!