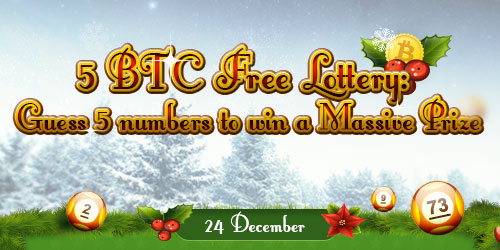 This is the last day of BitCasino Advent Week, and it may become your LUCKY DAY! Today you can win your share of the 7 Bitcoin prize pool in BitCasino Free Lottery!
All you need to do is choose your 5 lucky numbers from 1 to 36 and submit them using this fill-in form.
Example: 4 – 5 – 3 – 17 – 25
The winning numbers will be picked out randomly and announced live by one of BitCasino Live Dealers on December 29th at 10:00 GMT (05:00AM New York; 13:00 Moscow). Watch it here (click "5 out of 36").
You should predict at least 2 numbers correctly to get your prize. The prize will be shared among the winners proportionally according to the quantity of correctly guessed numbers:
– Players who correctly guess 2 numbers will share 1000 mBTC
– Players who correctly guess 3 numbers will share 1500 mBTC
– Players who correctly guess 4 numbers will share 2000 mBTC
– Players who correctly guess 5 numbers will share 2500 mBTC
P.S. This is the last promo of BitCasino Advent Calendar, and it is only valid until 00:00 GMT December 24th, 2014.