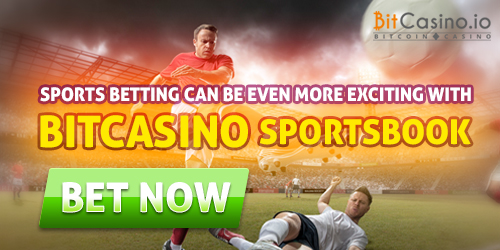 BitCasino.io players have been waiting for it to happen for a very very long time, and now it finally happened! Meet BitCasino.io's brand new SPORTSBOOK!
It probably couldn't be any better than this! In addition to BitCasino.io's astounding selection of 720+ high-quality virtual casino and slot games, their players are now offered to make Bitcoin bets on sports and social events, meaning there is no need to go elsewhere now to try your prediction skills!
BitCasino's team has been working really hard to launch their long-awaited sports betting platform and make thousands and thousands of their devoted players even happier! Are you one of them? If yes, go on and start betting on a variety of sports, including football, tennis, baseball, and many others already now!
And yes, besides sports, you are also free to bet on political and social events, including presidential and other elections, with lots of other betting possibilities to be added by BitCasino.io in the weeks to come!
By the way, the live betting functionality is also available, so decide exactly when to strike your bet and let in-play betting dip you right into the action and boost your chances of winning really big.
Oh the excitement of sports betting! With BitCasino.io, it can become your real passion.