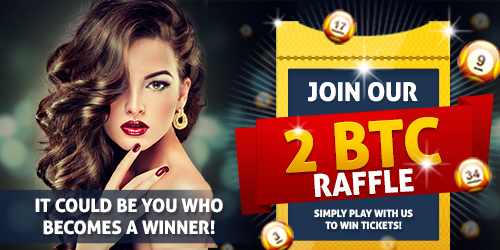 Become one of the lucky winners to grab a staggering 500 mBTC prize enjoying the casino and slot games you love so much!
Today is the starting day of BitCasino.io's magnificent July 2 BTC Raffle promotion as part of which you can receive up to 25 tickets for the ultimate raffle of the 2,000 total prize, with any of the tickets you receive can capable of winning a real-Bitcoin prize amounting to 50, 100, 200, 300, or even 500 mBTC!
To try your luck seeking to become one of the lucky winners:
1. Play any games from BitCasino.io's choice for real bitcoins until 23:59 (GMT) July 28th
2. Get a free raffle ticket for every day of your gameplay (1 day = 1 ticket)
3. Claim up to 25 tickets in total until the end of July 2 BTC Raffle promotion
These are the prize amount that the six best winners of the Raffle are getting:

Players placing 7th to 20th will also get a 50 mBTC prize each!
All tickets will be credited within 24 hours after the end of each day the games have been played by a participant.
The final 2,000 mBTC raffle will be held at 12:00 GMT July 29th, 2016 on BitCasino.io The usernames of the 20 lucky winners are to be published on the raffle page soon after the raffle is drawn. Winners will receive their prizes directly to their account balance.
Terms and conditions apply. See official BitCasino.io promo page for details.