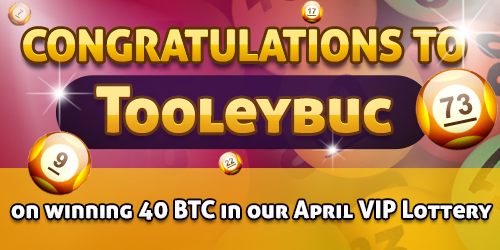 A few days ago a BitCasino.io player won a staggering 40 BTC in the casino's April VIP Lottery. He shares impressions in an interview with one of BitCasino's managers.
Bitcasino: Good day to you Tooleybuc, it is my absolute pleasure to meet with you right after your 40BTC win, please share your experience with us on how you found out and how you plan to spend the coins!
Tooleybuc:  Nice to meet you too Andrea and just WOW, let me tell you it was the shock of my life I will never forget, I was having a quiet day as my wife and I were packed for a vacation to Europe, everything was set, the house was spotless and the bags were all ready and I was making a cuppa tea, the telephone went and it was Cristina, my dedicated hostess, I couldn't make out at first as she was so excited and all I could hear was 40BTC, 40BTC, login login, Cristina has been my hostess for 6 months so I knew something big had happened.  I logged in and there was a massive notification on there saying I had won the 5 number Jackpot of 40BTC.

Bitcasino: We can agree with you on the hostesses getting excited, they can really cheer along! What did you do next?
Tooleybuc:  I called my wife over and said, I've won nearly 10,000USD She didn't believe me, I had to literally plonk her down in front of the screen, then we had a few tears and hugged each other and then had a few jumps around the living room, it couldn't have happened at a better time! We were about to embark on the holiday of our dreams and now we had some serious spending money. It was at this point I recalled perhaps I shouldn't have let on to my better half the full amount 🙂

Bitcasino: In addition to the lottery you must have other favourite games?
Tooleybuc:  I still had in my mind it could be a hoax but I was paid within 15 minutes, thank you so much, I am still saying WOW. I'm mainly a slots player, I'm loving Sugar Pop right now and quite often on a weekend night I pop into the Live Casino so I get the feeling of a real night out without having to leave my arm chair, I will certainly be giving a tip to the dealers there this week.

Bitcasino: So, Tooleybuc, considering the size of your winning and the fact that you won it in our special VIP lottery, do you think it's really worth for other players to pursue a VIP status?
Tooleybuc:  Absolutely! Yes! I have a dedicated hostess who keeps me updated on my rewards, I'm working towards a new Kindle Fire at the moment but have already received two Bitcoin books as I like to read.

Bitcasino: Is there something special about BitCasino that makes you our loyal player?
Tooleybuc:  For me, I love using bitcoins and get speedy cashouts and the selection of slots is greater than on some other sites I've played on.

Bitcasino: Any advice to other players on how to play successfully and feel happy about it?
Tooleybuc:  I play for fun and enjoy it, my wife was feeling a little left out so I always deposit a little for her to play too and we have our fun together, although she plays more poker and I have to listen.