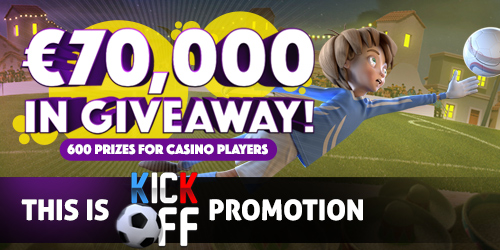 Play one of the most dramatic football-themed slot machines for real bitcoins, and get prepared to win a proper share of the enormous total prize!
HI AGAIN!
BitCasino.io doesn't want you to feel bored after the exciting weekend we all believe you had, so, the time may be right to join their hugely compelling €70,000 Kick-off Promotion.
Why? Because it may turn out to be the real Lucky Day for you, getting you one of the really immense money prizes in the end, including a European Football Experience of a Lifetime package for the 1st winner!*
The package includes:
– a 6 night break in Europe for 2 persons
– flights between the prize winner's home country, England, Spain and Italy, and return to their home country. The itinerary of these flights will vary dependent on match dates and locations.
– private return airport transfers in each country.
– two nights' accommodation at a 4 Star hotel (close to each stadium) in each match location. Breakfast is included.
– further nights and flights, depending on the final match dates.
Feeling interested?
To instantly become a participant:
1. Open the "Football: Champions Cup" slot on BitCasino.io
2. Play at least 20 real-bitcoin spins in it, with a minimum of 0.29 mBTC (€0.20) wagered on a single spin
3. For every 20 spins wagered, you will receive 1 ticket for the final draw
Each ticket gets you a chance to win one of the 600 cool prizes, including:
– a €10 prize for every player placing 501st to 600th
– a €25 prize for every player placing 151st to 500th
– a €50 prize for every player placing 51st to 150th
– a GoPro HERO4 Ultra HD Camera for every player placing 21st to 50th
– a Surround Sound Gaming Chair (including games console and games) for every player placing 11th to 20th
– a Genuine Signed Memorabilia of a Football Legend for every player placing 2nd to 10th
and
– THE MAIN PRIZE: European Football Experience of a Lifetime for the 1st winner!*
Terms and conditions:
– The promotion will run until July 10th, 2016.
– The final prize draw will be made on July 11th, 2016, with the usernames of the winning players to be announced immediately after that.
– Only real-bitcoin gameplay on the "Football: Champions Cup" slot will qualify for the promotion and wagering.
*
– The first prize winner and their chosen guest will be responsible for travel insurance, travel to and from their home airport and all other personal expenses. The first prize winner must be available to travel on the dates specified, and confirm availability six weeks before departure date. If match dates are unavailable, travel and tickets to alternative European locations will be provided.
– Both The first prize winner and their companion must have a valid machine readable passport with a minimum of 6 months validity beyond the return date, with at least two unstamped pages and a visa (if applicable).
– At least one of the travelling party must be 18 years of age or older. If you (as the winner) are under the age of 18 years old, you must be accompanied by at least one adult aged 18 years of age or older.
– Guests below the age of 16 must provide written parental consent to travel unless accompanied by a parent or guardian.
– No cash alternative is available, prizes are non-transferable and non-refundable.
– All tickets are subject to availability at the time of booking.
– The European Football Experience of a lifetime package must be redeemed within 6 months of the promotion closing.
Other terms and conditions apply. See official promo page for details.