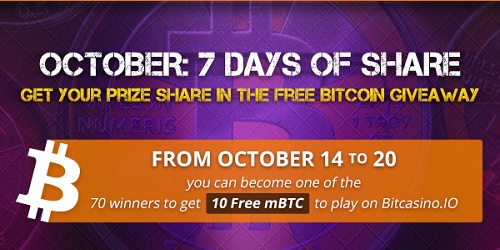 Thanks to this week-long BitCasino Seven Days of Share promo you get a perfect chance to get 10 mBTC for FREE by the end of this week already! Participate now!!!
To take part in the draw:
1. Visit the promo page: https://bitcasino.io/share
2. Click either left or right "Share" button on the promo page to share it on Facebook or Twitter
3. Enter your username on the promo page to participate in the giveaway.
4. Wait for daily draw results
There will be 70 winners in total, each getting their 10 mBTC share of the 700 mBTC prize pool!
Terms and conditions:
– You can enter any day within 7 days of the contest.
– Shares in social networks have to contain #BitCasino.IO hashtag.
– Standard BitCasino bonus T&Cs apply.
Sign up to try your luck in BitCasino Seven Days of Share prize draw promotion!