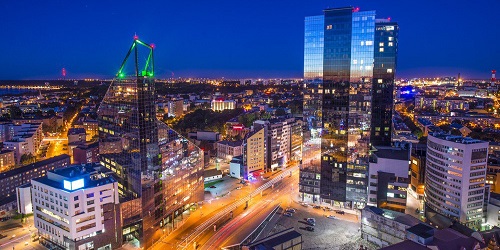 Over the last years, the Baltic counties have shown a record advance in the field of technological start-ups. What does such prolificacy mean for Bitcoin developments?
Surprisingly, the Baltics were the quickest to recover after the economic recession that swept most of the European countries a few years ago (according to some opinions, the crisis is still ongoing): thousands of new companies are registered every year in tiny Estonia, the smallest of the three states, commonly known as one of the pioneers of Skype. The team of Estonian IT talents and enterprisers known to have contributed greatly to the development of the globally acclaimed voice call service, now keeps a close eye on the industry of virtual currencies. Are they conceiving a Bitcoin revolution in the region?
Speaking of the country's potential in the field, Alexandr Gromov of HashFlare, a Tallinn-based cloud mining start-up, finds it is logical for Estonia "to have a rapidly developing Bitcoin industry, because here […] the world's first parliamentary e-elections, fully digital taxation and e-health systems [were introduced]". Apart from that, Estonia is really attractive for businesses, as here you can "quickly and easily establish your company on the Internet in a matter of minutes".
"The Bitcoin ecosystem in the Baltics is currently in its infancy stage, but despite this, cryptocurrencies are still gaining popularity. As far as we know, a number of retailers and service providers have started accepting Bitcoins as a form of payment for goods and services, starting with the purchase of tickets and payment of legal services, ending with ordering a cup of coffee", Gromov continues.
Indeed, in the Baltic States there are many merchants, service providers, and even major companies accepting bitcoins, the most notable being Latvian national air carrier airBaltic known to have enabled their customers to pay with BTC for their tickets in mid-2014. As a result, more and more 'average' users take interest in BTC and get the possibility to pay with it for many things, leading to local boosts in the industry.
There is no guarantee, however, that the future of cryptocurrencies and start-ups promoting them in the Baltics is as bright as it could, especially considering Estonia's 20% VAT on BTC transactions. Still, Mr. Gromov is kind of optimistic: "To be honest, we did not notice much of a difference. […] Since transactions with fiat money are taxed, why not [equate] cryptocurrencies [with them]. Everything is fair, at least until such decisions apply only to legal entities".