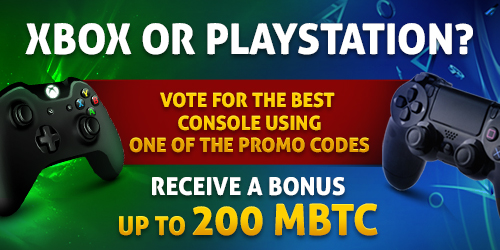 Get your balance credited with 200 mBTC extra by voting for your favorite gaming console! Is it xBox or PlayStation then?
Did you know Video Games Day is celebrated annually on… September 12th.
Well, never mind, don't you still wanna get VegasCasino.io's exclusive 100% up 200 mBTC reload bonus to have some great time enjoying the games from their choice?
This time they are giving a bonus to every registered player who votes for either xBox or PlayStation console on VegasCasino.io website by using the designated promo-code!
So, in order to learn which of the two sides is stronger:
1. Go to VegasCasino.io
2. Open the Cashier and click 'Open Bonuses'
3. Enter the XBOX or PLAYSTATION bonus-code into the corresponding code field and click 'Enable' to make your vote and apply for the bonus
(Be sure to enable the bonus BEFORE making a deposit, otherwise it won't be activated)
4. Make at least 1 mBTC deposit
5. The bonus will be instantly credited to your account
Indeed, you vote counts!
And you can have your bonus no matter which console you're a supporter of.
NB! The bonus code will expire at 23:59 CET on July 10th, 2016.
Other terms and conditions apply. See official VegasCasino.io page for details.