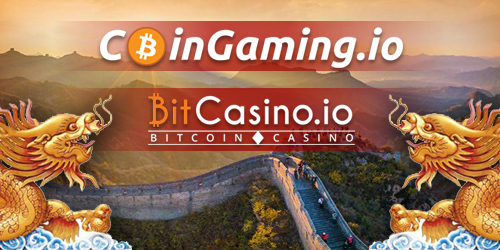 Сurrently being a number one Bitcoin gambling solutions provider in most of the world, CoinGaming.io is in very serious mood about conquering the rest of the markets.
The company's compound strategy includes, among other actions, also looking for new partners in the prospective areas of interest, and so far BitCasino.io, one of the world's leading Bitcoin casino portals, has been the biggest partner for them. Recently, in order to strengthen their positions in the Asian market, CoinGaming has entered into a partnership with XIN Gaming, another tiger of the BTC casino gaming.
According to Mark McGuinness, the head of CoinGaming communication department, this cooperation has been established as part of the company's ambitious plan to look for new Asian partners, and with the help of XIN Gaming, one of the region's leaders of digital casino gaming content market, CoinGaming.io will be offering "leading Bitcoin enabled casino games of the highest standards and playability for [their] customers".
Currently engaged in several joint projects with globally acclaimed clients, XIN Gaming has a comprehensive set of virtual slot machines and online versions of table games in their portfolio, and one of their features is quickly customizing the required solutions for certain markets, which is seen by CoinGaming as one of the key elements of success of the Asian enterprise. As noted by Mathias Larsson, the founder and CEO of XIN Gaming, "CoinGaming is well-respected when it comes to Bitcoin gaming platforms and white label services. We are delighted that they have chosen XIN Gaming to expand their casino games offering within the Asian Bitcoin marketplace".
The collaboration of CoinGaming.io and XIN Gaming isn't just a great example of how Bitcoin gambling companies can cooperate internationally to achieve common business goals; it is also a toe in the water for XIN Gaming in terms of sharing their gaming content with major white-label BTC casino gaming solution providers like CoinGaming. Eventually, the whole range XIN Gaming games will become fully accessible to BitCasino.io players.