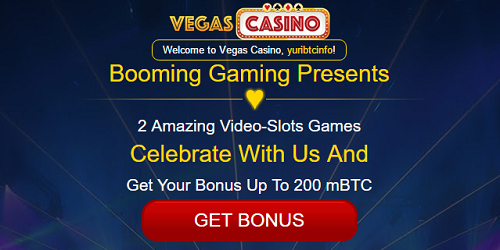 VegasCasino.io has got two outstanding new slot games for you in their collection, and they believe that's a nice reason to also give you a special bonus!
So, meet "Booming Glow" and "Chow's Chance", the two brand new must-play slot machines in VegasCasino.io's range that are now officially available to be played either for real bitcoins, of for fun, just for the sake of entertainment.
The energy-splashing "Booming Glow" is themed around sports dancing and aerobics, and, with up to 25 paylines to be activated during the gameplay, as well as a comprehensive set of in-game bonus features triggered by scatters and Special reel symbols, it can become a very lucrative experience for you.
No less rewarding is the comical orient-themed "Chow's Chance" slot that features laughable Kung-Fu-Panda-like animals dressed in Chinese national costumes. Here, the action takes place in a traditional Chinese room with a scenic view of the surrounding nature, and, as an adorer of the Oriental art, rewarding bonuses, and impressive winnings, you will be genuinely delighted to play this game.

Both games have been developed by the aspiring Booming Games provider, meaning, with these new slots, you can enjoy the state-of-the-art multimedia gaming tech advancements, and, to celebrate their launch, VegasCasino.io would like to give you an exclusive 200 mBTC bonus!
Here is how the BONUS can become yours:
1. Go to VegasCasino.io
2. Open the Cashier and click 'Open Bonuses'
3. Enter the BOOM200 bonus-code into the corresponding code field and click 'Enable'
(Be sure to enable the bonus BEFORE making a deposit, otherwise it won't be activated)
4. Make a deposit
5. The bonus will be instantly credited to your account
NB! The bonus code will expire at 23:59 CET on June 12, 2016.
Other terms and conditions apply. See official VegasCasino.io page for details.