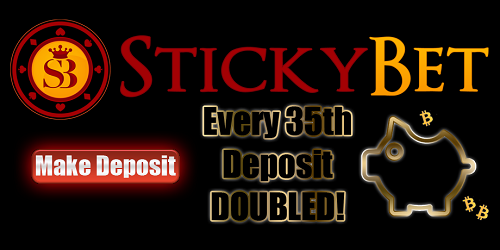 Thanks to this magnificent StickyBet Double Deposit bonus promotion, if your next deposit in StickyBet Casino is 35th in a row – the casino will gladly double it!
It's really that simple! You make a 0.2 Bitcoin or bigger deposit on StickyBet from now until 00:00 CET November 18th, 2014. If your deposit becomes the 35th sequentially in StickyBet's system, your account will be credited with additional 200 mBTC to play with, or CASH OUT instantly! There are NO additional wagering requirements!
As soon as the first lucky player gets their StickyBet Double Deposit bonus, the countdown starts again until the next 35th player makes the winning deposit.
However, to make it fair, you are not allowed to make 35 deposits in a row to get your last 35th deposit doubled.
Terms and conditions apply. See StickyBet official webpage for details.
Learn how to get your StickyBet MASSIVE 450% Welcome Bonus!
Learn more about StickyBet Deposit Back bonus and LIVE Casino games!
Sign up with StickyBet to access their entertaining realm of online casino games and take advantage of the StickyBet Double Deposit bonus!