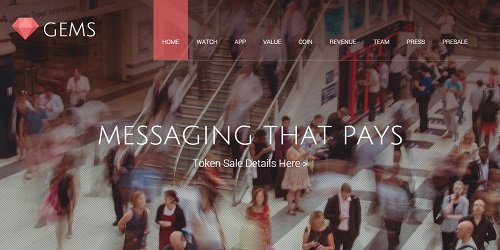 The new crypto-technology based Gems messenger app enables users to not only exchange encrypted messages, but also make user-to-user Bitcoin transfers and payments.
The fact of WhatsApp being purchased by Facebook for a mind-bending $19 billion, really gets under developers' skin and makes them have sleepless nights. Currently, there are over a dozen instant messenger projects under development, each having its own twist.
What makes Gems so special is the full-fledged integration of Bitcoin and "gems", the company's own cryptocurrency used by developers to monetize their project. According to Gems founder Daniel Peled, what their app also does is, unlike the competitors' products, encrypting the information transmitted between conversation participants. The program itself does not have access to messages, and they are not stored on Gems servers. Peled believes no third party access is the only way to make communication via messenger genuinely private.
Apart from offering their customers a fully-featured business platform, Gems also intend to share their revenue with users by way of rewarding them with gems (freely convertible into BTC) for certain actions taken in messenger's social network. In fact, the network users will be paid for attracting new users.
Gems messenger app is based on today's most advanced crypto-technologies, with RSA2048 and 256-bit key AES algorithms used for data encryption. Currently, Gems app is available to customers in beta-version with limited functionality; the full version with integrated wallet and the built-in platform for gems and Bitcoin transfers is scheduled to be released in December 2014. iOS users will be first to get access to Gems, while Android version is still in development.
Thus, Gems joins the ranks of applications using block chain technology for other purposes than digital currency transfers.