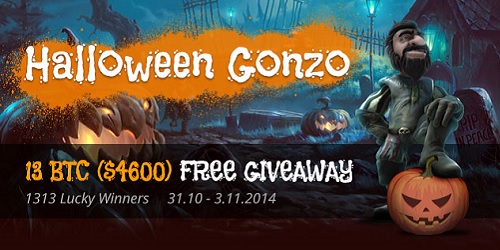 Starting from today, October 31st, 2014, you get a SUPER chance to get your share of the total 13+ BTC ($4600+) prize pool in BitCasino HALLOWEEN GONZO free giveaway!
You can become one of the 1313 winners VERY-VERY easily and get your 10 mBTC prize!
All you need to do get YOUR prize is:
1. Get our HALLOWEEN GONZO promotion e-mail
2. Find a PUMPKIN SYMBOL anywhere on BitCasino.IO pages
3. Copy the link of the page you eventually find it on
4. Paste this link into the form sent to you in the e-mail (are you subscribed to Bitcasino newsletter?)
5. Click "SUBMIT" below.
That's it!
The promotion is open from 31/10/2014 to 11/3/2014.
Terms and conditions apply. See Betcoin official page for details.
Sign up with Bitcasino to be able to participate in Bitcasino Halloween promotion and get access to hundreds of TOP-class HD casino games!