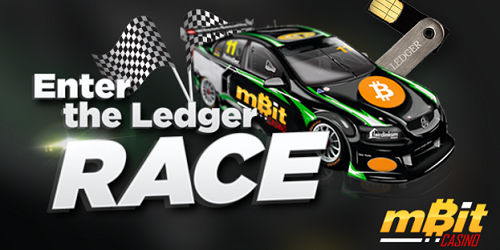 Make your gameplay and payments really safe with the help of the advanced Ledger Nano wallet that you can get at mBit with their Ledger RACE promo!
Think your current Bitcoin wallet may be lacking reliability? Well, the time may be ripe to switch to a more trustworthy alternative, the advanced Ledger Nano wallet, the more so mBit Casino are holding their Ledger RACE promotion now, and, as part of it, you can get one for yourself quite easily!
Ledger Nano is one of the most in-demand hardware cryptocurrency wallets nowadays, all thanks to its handiness, enhanced security, and the revolutionary BIP 39 mnemonic backup feature.
The Ledger RACE promo will last throughout the following two weeks, but it would be wise to start your participation in it already today!
That is what needs to be done:
1. Start playing any games mBit Casino have in their range
2. Play them for as long as you can
3. Collect 2,000 mBTC worth wagers until 23:59 GMT, June 6, 2016.
4. You will get your Ledger Nano wallet automatically!
All in all, there are hundreds of Ledger wallets to be distributed to qualifying players at the close of the promotion. By the way, Ledger Nano is one of the items at mBit's exclusive online VIP store, and, if you're still not a VIP-level player, you can learn more how to become one, and enjoy a truly immense range of VIP gifts, options, and privileges.
Terms and conditions:
– Winners will be notified via email between June 7 and 15, 2016.
– The Ledger RACE promo is held until 23:59 GMT, June 6, 2016.
– Other terms and conditions apply.