This time, your chances to become one of the lucky 200 raffle lucky winners are higher than ever before. Click to read more to opt in instantly!
As part of BitCasino's previous raffle, each of the 100 players that participated in it received their 10 mBTC share of the overall 1000 mBTC prize! This time, the pot is doubled up to 2000 mBTC, with 200 participants welcome to opt in!
Are you in? You should really be, as the chances for you to win you share of the prize for free is higher than EVER BEFORE!
There is absolutely NO DEPOSIT required from you – just sign up with BitCasino.io, go the 2000 mBTC Raffle page, and click 'SUBMIT'!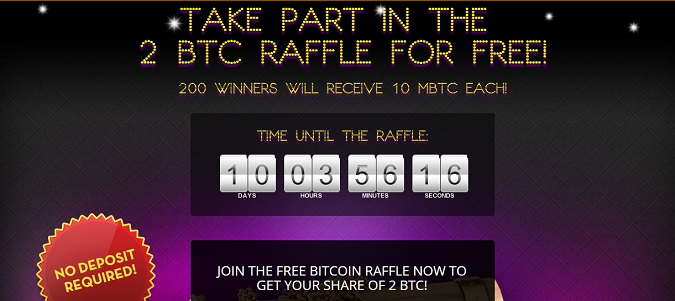 That's it! You're participating now!
---
The promo runs until October 2nd, 2015.
The winners will be announced on the Raffle page and contacted directly by BitCasino.io support staff on October 5th, 2015.
Regular BitCasino.io x35 wagering requirement applies.