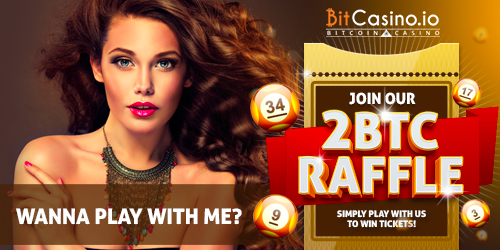 We are happy to announce this October BitCasino.io are holding yet another month-long promo which is to end with a massive prize raffle!
It doesn't really matter whether you have or haven't been successful in last month's BTC prize raffle at BitCasino.io, as already now you can start securing lottery tickets for yourself to later participate in OCTOBER RAFFLE promotion!
Through October 31st, play all the slot and casino games you like for real bitcoins on BitCasino.io, just the way you usually do, and this time, again, for every day played, you will get a reward of 1 free ticket to participate in the final raffle on November 1st, 2016!
That is how you can earn winning tickets:
1. Play any BitCasino.io games for real bitcoins until 23:59 (GMT) October 31st
2. You will get a free raffle ticket for every day of your gameplay (1 day = 1 ticket)
3. In total, you can claim up to 25 tickets until the end of October 2,000 mBTC Raffle promotion
4. The final 2,000 mBTC raffle will be held at 12:00 GMT November 1st, 2016 on BitCasino.io
This month, again, the prize will be shared among 20 active BitCasino.io players: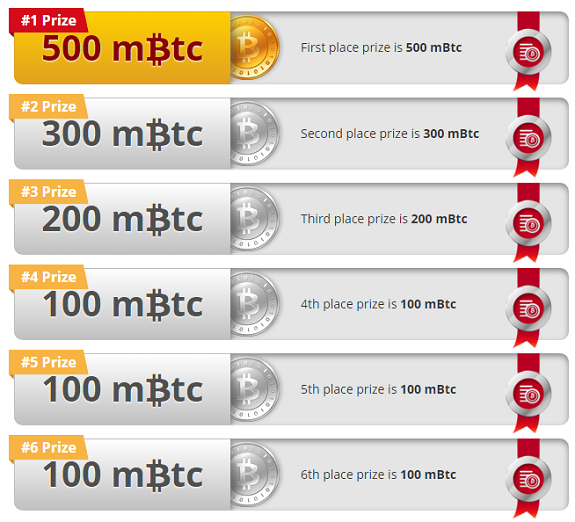 Players placing 7th to 20th will get a 50 mBTC prize each!
All tickets will be credited within 24 hours after the end of each day the games have been played by a participant.
The final 2,000 mBTC raffle will be held at 12:00 GMT November 1st, 2016 on BitCasino.io. The usernames of the 20 lucky winners are to be published on the raffle page soon after the raffle is drawn. Winners will receive their prizes directly to their account balance.
Terms and conditions apply. See official BitCasino.io promo page for details.
---
Looking forward to take advantage of BitCasino.io player bonuses?
At your disposal are:
– a 100% up to 1 BTC welcome bonus to start your gambling career with
– a 50% up to 1 BTC second deposit bonus
– 25% up to 1 BTC bonuses on all your further deposits
and lots more!