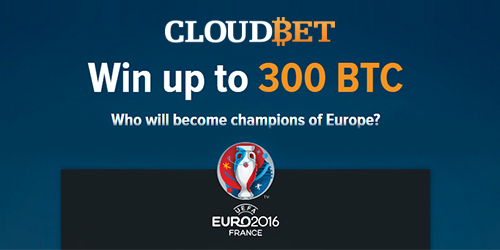 Vary your Euro 2016 betting experience with Cloudbet's multiple markets for the upcoming Championship!
The worldwide football fan community is excited as they are eagerly awaiting this summer's UEFA Euro 2016 Championship to be held in France from June to July.
Cloudbet joins the celebration by launching their promising Euro 2016 bracket competition, which enables their registered players to win up to 300 BTC ($160,000+) for making a correct selection of the tournament's perfect bracket.
Login to your Cloudbet account and enter the competition by selecting the national teams that, in your opinion, will make it to the Round of 16, quarter-finals, semi-finals, and the championship's final correspondingly, using Cloudbet's virtual team selecting tool.
A player who succeeds in correctly picking the winners of the first four stages of Cloudbet's competition will receive up to 50 bitcoins, while a hugely impressive 250 BTC prize will be awarded to the lucky one who correctly picks the overall winner of the tournament:
– 5 BTC for correctly selecting the 16 teams to advance to the Round of 16
– 10 BTC for correctly selecting the 8 teams to advance to the Quarter-­finals
– 15 BTC for correctly selecting the 4 teams to advance to the Semi-­finals
– 20 BTC for correctly selecting the 2 teams to advance to the Final
and
– 250 BTC (!) for correctly selecting the national team to become the total winner of the EURO 2016 Championship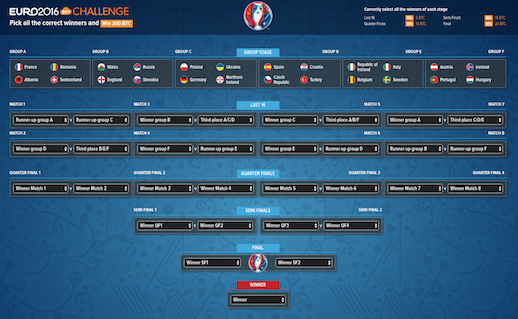 BETTING WITH CLOUDBET
Aside from the wagers on EURO 2016 bracket competition, you are also absolutely welcome to bet on Asian Handicap, 1×2, and Total Goals market, with ultra-high up to 200 BTC limits offered per bet. What you should know is that such limits are rather infrequent in the betting world, in no small part thanks to Bitcoin itself being a very cost-efficient wagering solution.
Apart from it, on Cloudbet, you are also able to make live bets (correct score, corner kicks, next booking, next goal and its scorer, penalty shootout etc.), meaning your Euro 2016 betting experience is to be as comprehensive as you can possibly imagine!

FIGHT BETTING BATTLES WITH YOUR FRIENDS!
While some say Cristiano Ronaldo and Portugal are simply unbeatable, others believe Germany, the current World champions, are destined to reach the semi-finals stage. What Cloudbet thinks you could do is submitting your perfect bracket selection, and share it with your friends or relatives on Facebook or Twitter, just to prove your point!
Terms and conditions:
– The Euro 2016 bracket will close at 10:00 AM (UTC) June 10th, 2016.
Other terms and conditions apply. See official Cloudbet page for details.