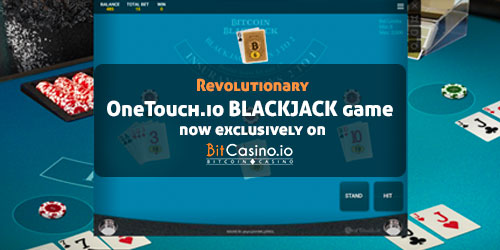 BitCasino.io are proud to unveil the truly one-of-a-kind virtual gaming stuff you won't be able to find anywhere else!
From now on, a fantastic virtual Blackjack game by OneTouch.io is officially available to BitCasino.io players, and you gotta have really good reasons not to give it a proper try today already!
OneTouch.io is an aspiring developer of online versions of classical casual/card/table games for virtual casinos worldwide that creates innovative mobile-first designs with sharp single-touch interactivity in order to deliver a superior online gambling experience on both desktop and hand-held devices.
The innovative Blackjack game developed by OneTouch.io's digital wizards can boast a variety of immense features, including:
– screen layout of the game perfectly designed to be played with a single fingertip
– provably fair technology allowing for randomization and legitimacy verification/of game outcomes (verification also available on OneTouch.io official webpage)
– the possibility to quickly and easily reposition game elements so that both left- and right-handed players can play the Blackjack game flawlessly.
The game features a responsive design enabling you to play the game in both landscape and portrait mode, as well as 100% compatibility with the latest retina mobile displays. Also in store are:
– full-screen mode allowing for seamless gameplay on screen of all sizes
– 2 levels of game history information accessible – summary and comprehensive – guaranteeing you a complete review of all your wagers and gameplay statistics
– the Look and Feel options letting you make visual adjustments to the game interface (color and style of the table) so as to make it look the way you want.
It goes without saying OneTouch also made their Blackjack game fully accessible on desktop machines. The developer describes their desktop view of the game as "a visual revolution in blackjack", as the interface provides big-screen players with "well-spaced elements" while "the fluid responsiveness maximises utilisation of the screen space available". These modern high-tech advancements come together with a user-friendly interface and are fully compatible with retina-ready visuals, resulting in the delivery of a "truly refined, quality gaming experience" for players using desktop machines with either small, medium, or large displays.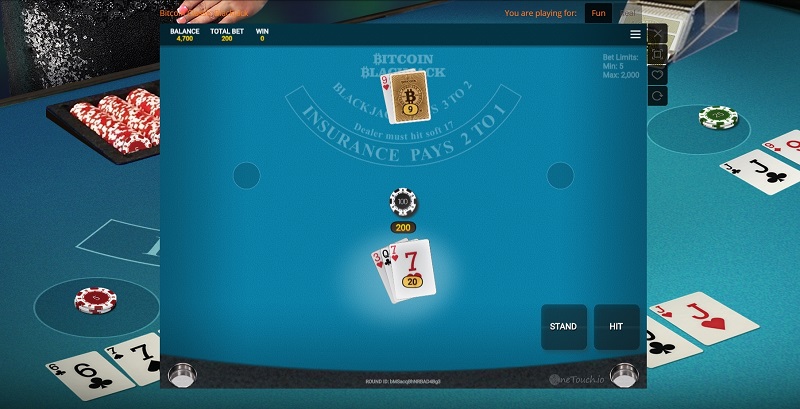 Currently, OneTouch.io have another two brilliant classical casino games underway – Roulette and Baccarat – in both mobile and desktop versions, and soon already, you can find them on BitCasino.io, too.
---
Looking forward to take advantage of BitCasino.io player bonuses?
At your disposal are:
– a 100% up to 1 BTC welcome bonus to start your gambling career with
– a 50% up to 1 BTC second deposit bonus
– 25% up to 1 BTC bonuses on all your further deposits
and lots more!