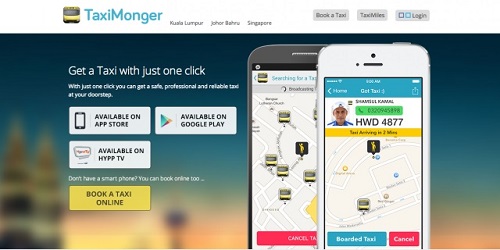 Thanks to the booking service called TaxiMonger payments in BTC are now officially accepted by taxi drivers in the Malaysian cities of Kuala Lumpur and Johor Bahru.
TaxiMonger is the first company in Asia to offer their customers the opportunity to pay taxi fares using Bitcoin. In addition, it's Malaysia's first cashless payment system, the need for which has been clearly established. TaxiMonger's downloadable app for iOS- and Android-based devices is available to about 1400 taxi drivers. Customers are able to book taxi trips online using the company's website.
Paying the fare in Bitcoin is much easier than it seems. There's no need to scan the QR-code when you're in the car, as the app will automatically send the BTC to the driver's device. The total amount of fares paid to a driver daily in BTC is later converted into fiat currency.
TaxiMonger's payment system was developed by a local Bitcoin enthusiast Arsyan Ismail; this isn't his first project aimed at promoting Bitcoin in Malaysia. BitRinggit – the Malaysian Bitcoin adherent community led by Ismail – is known to have brought Cryptomarket and brokerage exchange platforms into the country. The team now plans to expand the use of Bitcoin among taxi drivers, and offer Bitcoin payments to other taxi services, including CAB2klia and JohorCab.
Experience has proven that taxi companies are ideal for integrating payments in BTC. This payment method is seen as having considerable advantages over other electronic payment systems, as Bitcoin requires no special card-reading equipment. On top of that, Bitcoin provides greater safety and convenience if compared to cash payments, especially considering the fact that taxi drivers are among the most vulnerable to robbery threat.
Numerous taxi companies all over the world have thought about adopting Bitcoin, but so far only Malaysians succeeded in implementing it on a large scale. Some New York taxi drivers are also reported to accept payments in BTC, but only do so on their own initiative.