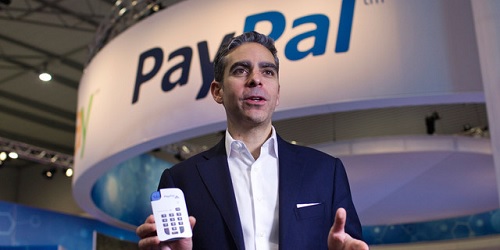 Speaking on Bloomberg TV's show "The Pulse" about mobile payment security PayPal CEO David Marcus admitted his company has given Bitcoin a lot of thought lately.
When asked about his projection of the cryptocurrency, Marcus answered he has "been spending a lot of time looking at it" and found "the way that the currency has been designed and the way the inflation is built in to pay for miners […] truly fascinating actually".
As many know, PayPal, one of the world's largest electronic payment companies and a unit of the world-renown eBay Inc. since 2012 (the planned spin-off of PayPal into an independent company is expected to be finished supposedly by late 2015), is very likely to add Bitcoin to the list of payment functionalities available to customers of both companies.
Unsurprisingly, Marcus was quite reserved when sharing his opinion on the possible integration of BTC by PayPal, although he spoke well about the currency's features and openly expressed his interest in it. PayPal's CEO mentioned that for the time being the company was giving higher priority to the security of millions of their clients, as this is one of the ways for the payment processor to show their appreciation to people who preferred them to other service providers. Mr. Marcus pointed out mobile payment security as one of the most crucial issues for the company, and revealed their plans to introduce innovative solutions that would enable customers to verify identity using their biometrical data instead of traditional set of credentials, and in such manner enhance their digital fund security.
By now, eBay has already been experimenting with Bitcoin for some time already. Braintree, another eBay's payment processor subsidiary, has partnered with BTC solutions provider Coinbase to start offering payments in Bitcoin to their customers. Now that the several-month experiment has proven to be successful, the time seems to be ripe for PayPal to also implement the Bitcoin functionality. The fact that the company enabled second factor authentication may serve an indirect indicator for us that their work on that is in progress.