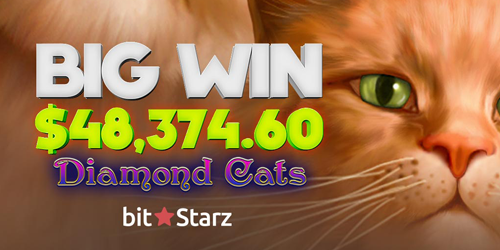 BitStarz casino has always had a positive reputation as an institution that has top quality games. Now, the casino is finding itself in the positive headlines for even greater reasons, as a player has just hit a payout of $48,374 by playing the Diamond Cats slot. Available from Amatic, Diamond Cats slot is one of the several titles at BitStarz, but success at slot games is largely about timing and luck. This player seems to have both on his side, as he has been able to pick up a sizeable payout for a second time in the last couple of months.
The player recently decided to go with the Hansel and Gretel Witch Hunters slot, a game which comes with an evil witch theme. Surprisingly, the game offered a $64,800 payout in just a few spins!
Hence, it is certainly not a disappointment to be making just over $100,000 in just a few months while still being entertained at a casino. The player was also probably enjoying the numerous other games – which are not limited only to the slots category – at BitStarz.
It is a surprise that the player decided to return to the casino so soon after having seen a sizeable payout on the Hansel and Gretel Witch Hunters slot. This game manages to offer some of the class leading graphics among the titles at BitStarz, and it can be quite scary too! Many players may not have gone for the Diamond Cats slot immediately after a scary title, but it may be that the randomness has been rewarded quite handsomely.
The player was able to get the mammoth win on Diamond Cats slot after managing to hit the game's incredible multiplier feature. The 1000X multiplier is a feature that can provide handsome wins even on small stakes and it has been proved once again. The player was able to go away with a return of 10 BTC. Unlike at other major casinos, the support to bitcoins mean that the value of the win would have probably shot up significantly if the player had still retained the same as BTC. As a result of this substantial win, the player is now able to pocket a year's average salary. Interestingly, he could feed a cat for a whopping 503 years with these wins. Considering that he has been rewarded quite brilliantly by a cat themed slot, it would not be surprising to see one lucky cat getting to enjoy a small portion of the $48,374 payout.
Responding to the event of a player managing two sizeable wins in the space of a few months, BitStarz' marketing manager Srdjan Kapor claimed that just because a player has been successful this not mean that they stand to win again at a casino. "Some people might think that just because you've won in the past, it means you can't win again. Well, this is clear proof that it isn't true. Big congratulations to our lucky winner and I'm excited to see if he manages to win big again soon!" claimed Kapor.
The availability of multicurrency support at BitStarz makes it possible for a player to not just rely upon regular Fiat currencies in order to deposit and play games. The availability of bitcoin support mean that the player is also benefiting quite heavily from the substantial increase in the value of the currency.
The flexibility offered by the different currencies is important at a major online casino like BitStarz, as a whole host of players descend upon the institution in order to try out their 850+ titles in the portfolio. Besides the huge collection of titles, this online gambling institution has also generated quite a reputation for lightning fast payouts. Each payouts take just around 10 minutes on an average and few competitors will be able to match BitStarz in this regard.
BitStarz also has license from the Antillephone NV, who are located in Curacao. The institution has titles from top developers like NetEnt, SoftSwiss, BetSoft, and Amatic gaming amongst others.