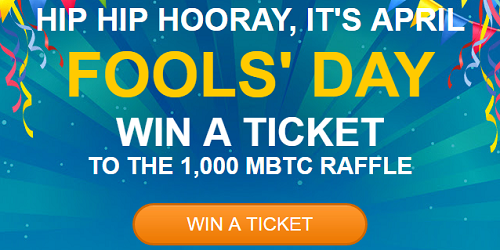 Good at telling jokes? That's an especially useful skill on April 1st, the April Fool's day! And it can get you something really essential on BitCasino.io.
It's not a joke. You know, BitCasino's support team agents also love to have fun, and if you think you can give them some nice giggles, go ahead and do this in the casino's live chat right now!
Indeed, just tell them any nice joke you know, and get a special reward for that – a ticket to BitCasino's one-of-a-kind April Fool's day raffle with 50 lucky winners to share an impressive 1000 mBTC prize!
There's a maximum 1 ticket per one player available, so get yours now.
The promo will only last until today's midnight, when the April Fool's day will become April Fool's night.
Once again:
Go to BitCasino.io customer support live chat and tell any of the agents one joke you think is great.
You'll get one ticket to participate in the 1000 mBTC April Fool's day raffle.
The odds are great you'll become one of the winners to get your share of the prize pool.
Have lots of fun on April Fool's day!