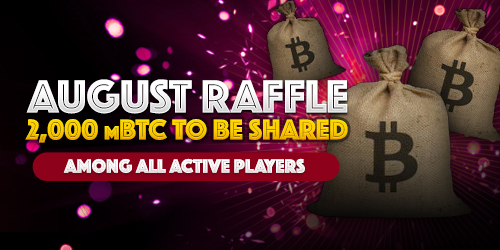 The prizes start at 50 mBTC, with the first winner getting a more than substantial 500 mBTC reward! What are you waiting for?
Did you take part in VegasCasino.io's July Raffle with the 2 BTC prize fund?
Worry not, if you didn't or the luck turned its back on you, as this month, they are holding their AUGUST RAFFLE with the total prize also amounting to 2,000 mBTC!
As usual, there is no need to submit your username on the promo page to become a participant, as, to be deemed an active VegasCasino.io player, you simply need to play their games for real bitcoins for as long as you can, starting from now and through August 31st, 2016.
The casino will award one free raffle ticket to you for every day you play any real-Bitcoin casino games through the final day of August.

The total prize will be shared among 20 active VegasCasino.io players, with:
– a forcible 500 mBTC prize to be awarded to the 1st winner
– a 300 mBTC prize to be given to the 2nd winner
– a 200 mBTC prize to be credited to the 3rd winner
– players placing 4th to 6th getting a 100 mBTC prize each
– players placing 7th to 20th getting a 50 mBTC prize each
The August Raffle draw will be held on September 1st at 12:00 GMT.
Terms and conditions:
– The August 2,000 mBTC raffle promotion will run until 23:59 (GMT) August 31st, 2016.
– Raffle tickets can take up to 48 hours to be credited.
– The winnings will be credited to the user's VegasCasino.io account balance within 48 hours after the draw.
Other terms and conditions apply. See official VegasCasino.io page for details.