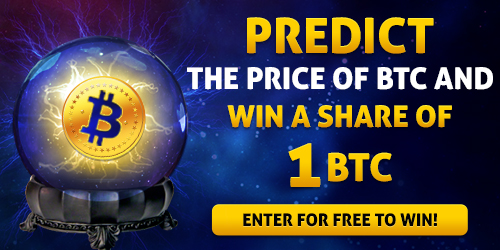 VegasCasino.io are giving away 1 BTC and a special 100% bonus to their players who succeed in correctly predicting the price of Bitcoin!
Well, yes, the exchange rate of the cryptocurrency may be somewhat volatile, but then, any guess you make can be a safe one, and get you some proper amount of bitcoins, the more so, you're also officially eligible to get VegasCasino.io's exclusive 100% up to 200 mBTC bonus!
This is how you can get your bonus:
1. Go to VegasCasino.io and sign in (sign up)
2. Submit your prediction (as of 12:00 GMT, June 15, 2016) and username before June 1, 2016.
3. If your prediction appears to be one of the most accurate, you'll share the 1,000 mBTC prize
4. Use BTCPRICE bonus-code to receive your special 100% up to 200 mBTC bonus
CHECK IF LUCK GOES YOUR WAY ALREADY TODAY!
Terms and conditions:
– This promotion will run until 12:00 AM (GMT) June 1, 2016.
– Players whose prediction will be the most accurate to the real price of 1 Bitcoin in USD, will share the 1,000 mBTC total prize.
– Other terms and conditions apply. See official page for details.