Welcome to the new dimension of virtual Bitcoin gambling where you don't have to play against the house any more.
Presenting themselves as rather a 'play hall', not a traditional virtual casino, the innovative BitPokie platform may easily be heralding a new era in the field of online gambling!
For one thing, what they are offering you is not playing against the casino as you do usually, but rather competing AGAINST OTHER PLAYERS, and that is something you may have not tried ever before. That is what makes BitPokie somewhat unique as gaming portal.
However, is there anything else that makes them so different?

GETTING STARTED
Indeed, you may be willing to beat your likely opponents in a casino game, including your friends, relatives, or colleagues. What you need to do first to be able to do so is creating a player's account* at BitPokie. That won't take you any long.

THE GAMES
As soon as you complete the registration stage, you'll discover yourself in an entire world of gambling possibilities, and this one is to grow only bigger in the course of time. In this world, every game is a realm consisting of five "cities", each of those having four districts. The latter differ from each other by the total number of participating players and buy-in levels. The total prize pool, accumulated through buy-ins made by players is to be eventually divided among top winners.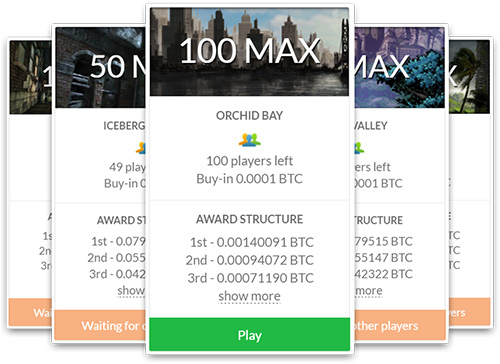 THE PRIZES
It all really simple. The more participants there are in a game, the bigger total prize pool it can boast. Even if it happens so that you don't place too high in the final rankings, worry not, as through BitPokie's generosity, you will get 50% of the buy-in you made back directly to your gaming balance!
Aside from it, there is a hugely promising up to 5 BTC Jackpot available in every district of every city of the BitPokie gaming world! Naturally, with 20 districts you get 20 various jackpots in total. The size of a jackpot is determined by the total amount of buy-ins made by the players of a certain city. Eventually, the higher activity of a game is – the faster the jackpot will be raffled!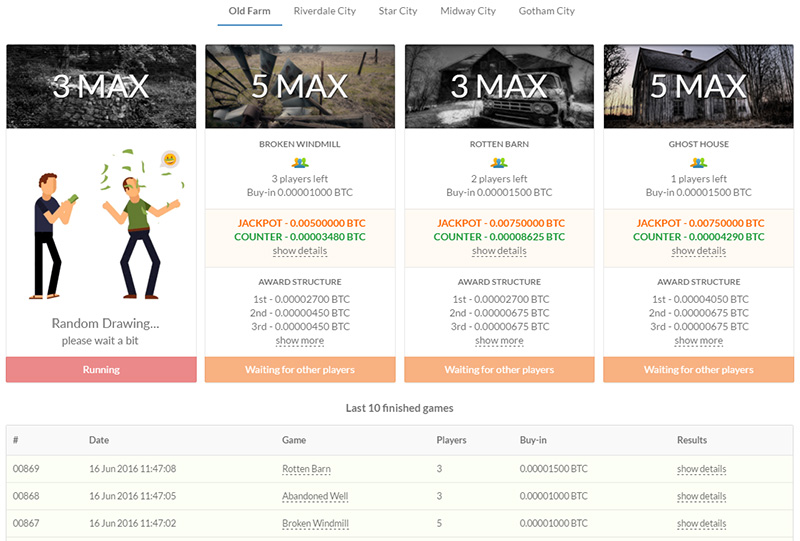 SAFETY AND FAIRNESS
As claimed by BitPokie team themselves, player safety and security is a matter of primary concern for them. To maintain connection security, the portal uses the advanced SSL-encryption, which also ensures your data is not monitored by third parties, and remain in complete privacy. All the payments you make or receive as a BitPokie player, are conducted in manual mode, which adds up significantly to your funds security. The portal's customer support team is all there for you 24/7.
Speaking of the gameplay fairness, BitPokie is a partner of "Randomness and Integrity Services Ltd.", and uses an approved RNG system to decide the final winners of their games. Further on, players are free to verify the fairness of the gaming outcomes by clicking the "Fair Check" button linked directly to a website where the results of all the games conducted can be confirmed.

EXCLUSIVE BONUS for BitcoinCasino.info readers
*Every player to sign up with BitPokie.com via BitcoinCasino.info will get a unique 0.0001 BTC deposit bonus. To get yours, just:
1. Register via BitcoinCasino.info portal.
2. Make a deposit of 0.0001 BTC or bigger.
3. The bonus will be credited to your BitPokie balance within 24 hours
See more details on BitPokie official page.