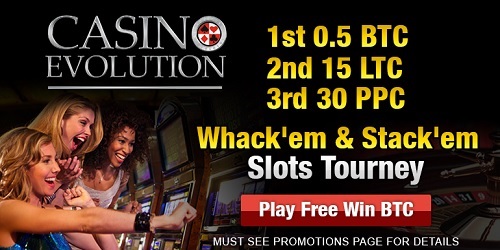 Enter Whack'em & Stack'em Casino Evolution slots tournament very easily by just liking their Facebook page and by sharing the Whack'em & Stack'em post on Facebook.
Yes, that's all you need to get registered to participate in Whack'em & Stack'em tournament which runs until November 8th, 2014!
You will need to compete against other players to earn the highest SINGLE SPIN payout in any of the slot machine games available (except for the two video poker games on the Casino Evolution website) and win one of the TOP prizes:
1st place – 0.5 bitcoins
2nd place – 15.0 litecoins
3rd place – 30 peercoins
Any SINGLE SPIN within the bonus "free spins" will be recognized and eligible for a top prize. Please keep a record of the time, date, and amount of the SINGLE SPIN payout, and report these details and your Casino Evolution username/associated e-mail to Casino Evolution support team via the support page.
The TOP-3 winners of the Whack'Em & Stack'Em Casino Evolution slots tournament will be chosen on November 8th, 2014 and credited the prizes to their accounts within 24 hours.
There are NO CASHOUT RESTRICTIONS on the prize amount.
You can request an increase in Casino Evolution (in case you are broke or happen to spend them) via the support page providing your username/associated e-mail address.
Terms and conditions apply. See official Casino Evolution page for details.
Sign up with Casino Evolution to be eligible to participate in Casino Evolution slots tournament promotion and enjoy the variety of casino games and online slot machines they offer.