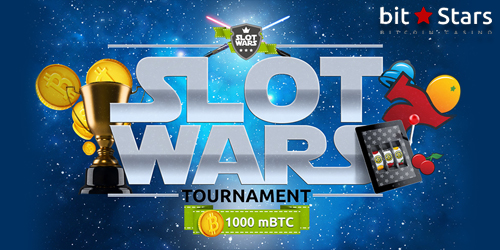 BitStars Casino SLOT WARS tournaments will run weekly, so the chances for you to reach the leaderboard are bigger than ever! Enjoy your instant wins 4 times a month!
Here's how you can win:
1. Play any BitStars Casino slot games and collect wins to get ahead the top players.
2. Take the lead in the "TOP WINNERS" board by the end of every Sunday (23:59 CET).
3. If you're successful in doing so, the weekly 0,5 BTC prize is YOURS now! And there's even better news – you don't have to wager it!
SPECIALLY for THIS WEEK the weekly prize is increased to 1000 mBTC (1 BTC). Be sure to beat the current leader by August 3, 2014!
Terms and conditions:
– Each BitStars Casino SLOT WARS tournament runs weekly between Monday (00:01 CET) and Sunday (23:59 CET). Winners are officially declared on Mondays after the end of every tournament.
– Only amounts won in slot games count towards the overall weekly results. Blackjack, roulette or any other casino game winnings are not eligible.
– Weekly prize amounts are announced in newsletters.
– The full list of terms and promotions is available on BitStars Casino official webpage.
Boosting your bankroll has never been so easy, so be sure to check other BitStars Casino promotions as well!
– Get BitStars Casino up to 1 BTC Welcome Bonus!
– BitStars Live Casino launch – get 30% of your funds back!