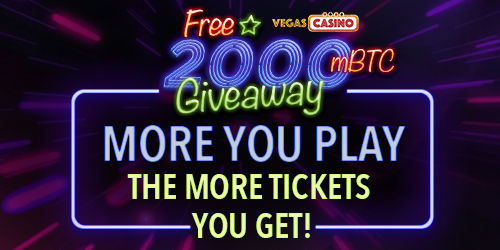 We are glad to announce this magnificent casino portal is holding yet another month-long promo which is to end with a massive prize raffle!
It doesn't really matter whether you have or haven't been successful in last month's BTC prize raffle at VegasCasino, as already now you can start securing lottery tickets for yourself to later participate in JULY's giveaway promotion!
And yes, let us remind you there is no need to submit your username on the promo page to become a participant. This time, to be deemed an active VegasCasino.io player, you simply need to play their games for real bitcoins for as long as you can, starting from now and through July 28th, 2016.
This month, again, the prize will be shared among 20 active VegasCasino.io players, with:
– an appetizing 500 mBTC prize to be awarded to the 1st winner
– a 300 mBTC prize to be given to the 2nd winner
– a 200 mBTC prize to be credited to the 3rd winner
– players placing 4th to 6th getting a 100 mBTC prize each
– players placing 7th to 20th getting a 50 mBTC prize each

For every day you play, you will be rewarded with one free raffle ticket, and the more tickets you are credited by the final raffle draw day, the closer your lucky hour may be!
The July Raffle draw will be held on July 29th at 12:00 GMT.
Terms and conditions:
– The 2,000 mBTC July Raffle promotion will run until 23:59 (GMT) July 28th, 2016.
– Raffle tickets can take up to 48 hours to be credited.
– The winnings will be credited to the user's VegasCasino.io account balance within 48 hours after the draw.
Other terms and conditions apply. See official VegasCasino.io page for details.