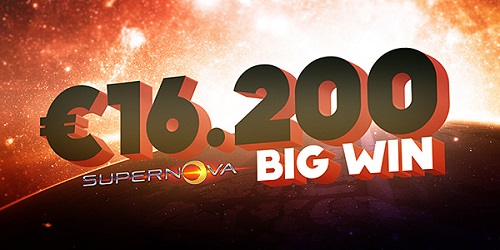 The popular hybrid virtual casino portal has seen another massive scoop this week with a player from Latvia having won an immense €16,000 in a slot.
The win was landed by a gambler called Rai75 after just a couple of spins in 'Supernova'. This isn't the first time a player wins astounding cash amount in this spectacular space themed slot from the casino's vast collection, as another BitStarz customer nicknamed hamsterchops won a juicy €17,000+ playing the same slot in August, so you may want to pay special attention to this game. Likewise, in September, the casino's loyal player known as badwinner, scooped an over €20,000 jackpot (about 95 bitcoins), this time in the 'Lucky Coin' machine. It really seems to be becoming a great trend, don't you think?
Speaking about his first impressions about the win, the Latvian who "was having loads of fun and actually was recording the whole thing" said he "got extremely happy" when it all happened.
As noted by BitStarz's marketing manager Sasha Jade, "the previous big wins" in the slot have resulted in 'Supernova' quickly "becoming the game of choice for many of [their] players". The manager finds it really "fantastic to see yet another player" scoring "a massive win", and believes BitStarz will see "plenty of more checking it out after this staggering payout". As we can see now, the casino does its best to ensure its players get the most of what BitStarz can offer them, including joy, excitement, expanded support level, and gaming environment safety.
BitStarz.com is one of today's leading online casino gaming platforms enabling their players to enjoy hundreds of various games online for either regular money or Bitcoins, with anonymized payment in the cryptocurrency taking just a couple of minutes to be completed. Currently, there are over 550 hit games in BitStarz's collections, and the choice of special bonuses and promotions they feature is way more than simply attractive for players of all skill levels.