Another clash of two rival Titans, the legendary patriarchs of good and evil, light and darkness, heaven and hell. While we all taught this battle was saved for the last dance, Netent went to unleash the horrors saved for the end of days, the Armageddon, in its newest, thrilling, and coolest slot game. Archangels Salvation; like the name, implies, the theme of the game is about the fight between an archangel and the Devil, and this time, it is a female archangel.
With this game, Netent brought out their over twenty years plus experience as veteran game providers to; give the player an unforgettable experience with every slot spin.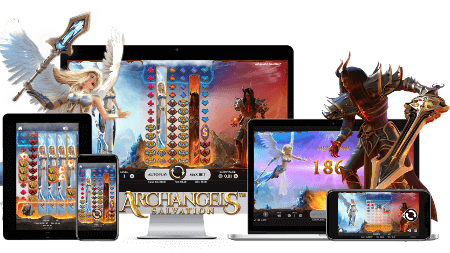 Also, this game came in with 100 bet lines and 6 reels, so while you keep going for those spins, you can be sure to have the angel smiling and looking out for you. What is more, the reels have the following symbols, ranging from hoods and helmets, clubs and spades, crystal-like diamonds, hearts, skulls, lions and the rarest and most rewarding symbol, the two characters of this game, the angel and the devil, which give the most reward, with 150 coins once 5 of these symbols line in, on a payline for you.
Slot Archangels: Salvation has a minimum of one coin per line and a maximum of ten. What is more, players can set their max bet and minimum bets, and if you do not feel like pulling the reel for each spinning, you can set it in autoplay and have it spin severally, as much as you would want. The jackpot is also pretty fair although there are no progressive jackpots.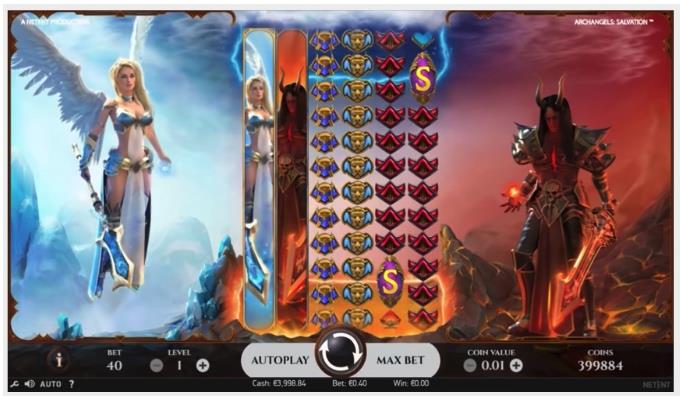 Also included in this slot are wilds, scattered symbols, and free spins too. Finally, there is a thrilling sound to the game, which gives it a feeling of thrill and fun.
One downside with this slot for some users is that the play space only covers a small fraction of the entire interface, which makes the symbols look small while playing.
With its RTP percentage 96.08%, it won't hurt to give it a shot and have some fun; make sure you bet is set at reasonable proportion if you would want to take several bets, and do not forget to have all the fun.