A 5 by three reels slot, with 20 pay lines, this game is designed with great semblance to ancient Egyptian culture and setting. Its interface is an old Egyptian style setting, and its symbols are replicas of ancient Egyptian gods, goddesses, and astrological signs. What is more, the soundtrack is similar to traditional Egyptian folk music all of which contribute to making it unique in its way.

Paying and payout details
Coins of Egypt has a minimum payout of 20 coins per spin and a maximum of 3000 coins. These are all for a 20p bet. Finally, its minimum bet starts at 20p to 200 EUR, with an RTP of 96.97%.

The graphic designs
A 3D slot game with rich graphical representations, like lightning during a win, palms in the background, looks of an Egyptian temple, treasure chests, ancient scrolls and several other great and unique artifacts of ancient Egyptian culture. Finally, this game is compatible with mobile, tablet and PC devices.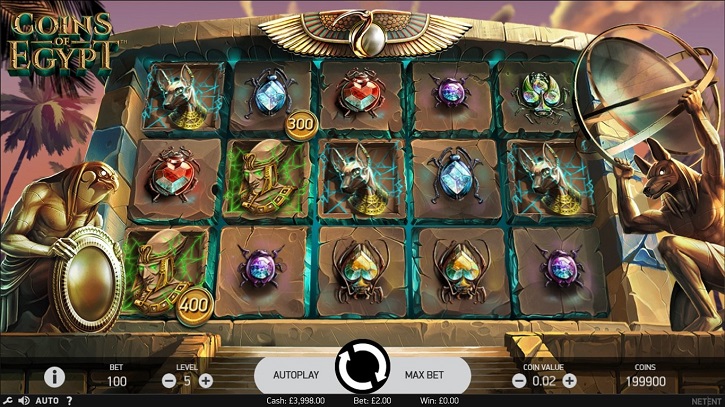 Symbols and their values
Its symbols range from several Egyptian deities to astrological creatures from ancient Egypt, like scorpion scarabs and other insects.
The deity-like symbols are the highest paying categories, with the gold god giving as much as 75X a player's bet for 5 of it lined up on a pay line. On the other hand, the insect symbols have the lowest payoffs per spin. However, the golden fly, which represents the wild symbol gives the highest pay per spin, with as much as 150X the players stake for 5 of it on a pay line.
Also, the wild symbol can substitute for all symbols except for scatters, chest seals, and collect symbols.
This game came with quite a unique touch with its symbols and their functions. The chest seal is one of such, which helps open a chest that has coins stored in them; however, this is only seen in free-spins.
Also, the collect symbol is one unique sign. Once it appears on the 5th reel, all visible coins that appear on reels 1, 2, and 3 are added to the player's winnings, even if the coins aren't on any of the pay lines.

Free-spins
This is usually common with Netent's games. Free spins occur when scatter symbols appear on reels 1, 2, and 5.
The free spin round has a lot of potentials, as it allows for coins to be constantly added the treasure chests at the bottom of the game's interface. During the free spins, coins are continually added for every spin. Also, chest seals appear randomly too, and once any of the chest seals appear thrice, within a free-spin round, the chest that is attributed to that seal pops open, given off all the coins in it. These coins range from hundreds to a few thousand in rare cases.

Pharaoh coin win feature
Once a collect symbol appears on reel 5 all coins, available on the reels at that moment, are added to the player's winnings. This is without regard to whether it appeared on a betting line. However, these coins only appear on reels 1, 2, and 3, all through the game.
Finally, when a Pharaoh coin win appears, every other win due to that spin is also added; this is rare but very rewarding.