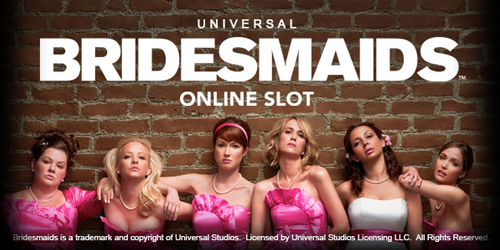 Have you seen the eponymous 2011 comedy movie? Even if not, you'll definitely like the fantastic "Bridesmaids" five-reel 40-ways-to-win video slot game!
Brought to you by the remarkable Microgaming, the game is one of the most popular slots they currently have in their collection, and now you can access it instantly to play for real bitcoins! The game has really splendid graphics and a tremendous soundtrack adding up greatly to the overall feeling of the gaming excitement and joy you will experience!
And no, despite its theme, the game isn't only meant for girls, as you, too, may find its features highly appealing, and, what's even more important, rewarding! The scatters in this stylish slot machine are represented by cupcake symbols, and if you succeed in landing no fewer than three of these on any of the reels as you play, the really promising Wheel Bonus sequence is launched instantly with the so-called Cupcake Booster feature! As you start spinning the bonus wheel in it, there will be a selection of some exclusive in-game bonuses, including x2 to x3 multipliers on pink or blue wheels' wins, and another x2 to x3 multipliers on all wheels' cash prizes, plus two additional wheel pointers available for you, with any of these, once unlocked, bringing you great chances for immense final wins!
The game's bonus features also include the Friendship Freespins and the Flying High Freespins, both of them getting you 10 spins extra with wins up to 1,750 times your stake, the Boutique Bonus letting you win up to 66 times your stake by matching multiplier pairs, and the very special Magic Moments bonus on top of that which enables you choose the best moments and win even more! Mentioning the size of these wins awaiting you for having chosen 9 of the 10 moments, it should be noted that, all thanks to the endless possibilities the "Bridesmaids" game provides, you can easily win a final prize up to 350 times bigger your initial stake!